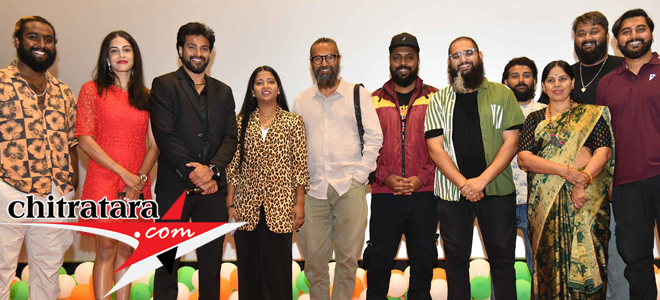 A twenty minutes short film 'Antarkalaha' is soaked in blood over a body! This is true the protagonist, part of a road accident and body hidden, is haunted by this episode in life. A series of four persons ask him where is the 'Body' – all of them are pierced from knives so badly that blood splash on his face – it really looks gory – this was not expected from a new team director Akash Joshi and his wife producer Priyanka Joshi.
After a counter argument, the makers of this 'Antarkalaha' are not ready to accept the flaw of so much blood. The need of censors even for a short film that is on Youtube came in the mind of media persons.
However, the veteran actor of hundreds of films Doddanna found out 'Anarghya Rathna' in youths that should be tapped. Another highly talented Arun Sagar, a psychiatrist in this short film said he just supported the new team with a good cause. An audience member made a fine suggestion that it could be 'Nanna Antarkalaha'.
Alok singer and composer, Niranjan Deshpande, Shamanth, Ranna Padubidri, Akash, music composer SID present at the screening of the 20 minutes short film 'Antarkalaha'.