Posted date: 02 Mon, May 2022 12:13:38 PM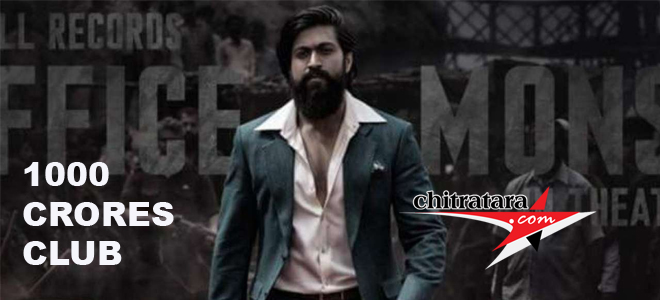 The prediction made on the second day of watching the Rocking star Yash film KGF 2 by www.chitratara.com has come true.
KGF 2 would soon reach the Rs 1000 crore club. It turned out to be true – the film released on 14th April 2022 reached to1000 crore at the box office collection on 30 April 2022. It is a magnificent result in just 15 days!
Apparently this is the first Kannada cinema and the fourth Indian cinema.
From the Hindi fraternity it is only 'Dangal' reached this level and two others are 'Baahubali 2' and the recent RRR and Rajamouli is director of two films out of four films reaching the 1000 crore club. From South India it is Prashanth Neel second director to get this 1000 crore club status.
Of course, the massive collection in Hindi has written new history and continuously for five days this film KGF 2 rocked with Rs.100 crore each day.
Hombale Films entered the world record books and the massive response it got further muscle up the growth to set new records for films like 'Salaar' with Prabhas and Prashanth Neel combination another Pan India cinema.
Kannada Cinema's Latest Wallpapers
Kannada Cinema's Latest Videos
Kannada Movie/Cinema News - KGF 2 1000 CRORES CLUB - Chitratara.com
Copyright 2009 chitratara.com Reproduction is forbidden unless authorized. All rights reserved.