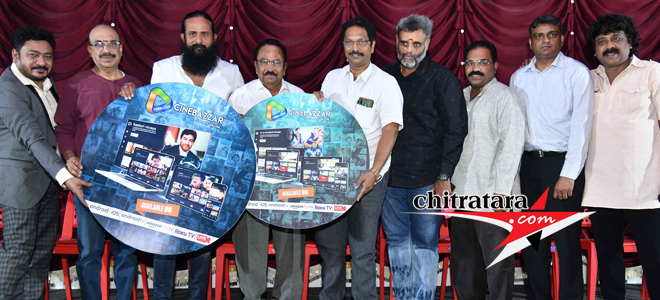 Today
home is the place to watch films, today the choice is yours with a mobile to watch your favorite films. When this need is fulfilled with just Rs.25 rupees. You save Rs.3000 to meet ticket price, go on busy roads, etc for your family of four.
Now come to cinebazzar.com application. You can watch a film with your entire family members for just Rs.25. This is the brainchild of Bhasker, Umesh Banakar and technician Sudhakar with great knowledge of Sudhakar on this concept and making it happen.
Cinebazzar.com provides you the opportunity to watch films in 177 countries and without any advertisements and there is no need for you to subscribe.
Cinebazzar.com inaugurated on Sunday – May day at Sri Renukamba Digital Theater with a video presentation. Diamond star Srinagara Kitty with KFCC President DR Jayaraj, KFPA President Praveen Kumar, noted directors Naganna, Ravi Srivatsa, BM Giriraj and others present to wish the new team a novel concept. The Karnataka Chief Minister released this application on Sunday. National award winning actor Thara in a video message wished the team and support of the producer she stressed.
Mr Sudhakar from Chennai explained the whole process of bringing it at an affordable price to view films. The piracy track to the extent of 80 percent is a boon to the producers. A film with 1.2 GB compressed to 200 MB to reach the user without any hassles.
Cinebazzar is the brainchild of Bhasker that is in support of KFCC leading man Umesh Banakar. This is the effort of two years. As the big shots are not interested in small and medium budget films we are trying out this method with proper technical knowhow says B and B.
Pure hearts are at work and should be supported in the right way, stated Srinagara Kitty. Any advancement we have to accept said KFCC President DR Jayaraj, instead of going to wrong operators the producers make use of this type of professional people to get back investment pointed Kannada Film Producers Association President Praveen Kumar.
Every effort has resulted and this double B should rock with industry support stated director Ravi Srivatsa. Going through the quality of screening Ravi Srivatsa it is amazing and no need to go to Amazon.
When Bhojpuri films have such apps to reach common audiences, why not in Kannada – it is the right time, said BM Giriraj, a talented director.
Senior director Naganna made a thorough discussion with key person Bhasker and convinced first. He feels it should work out for the needy film producers in a transparent way.