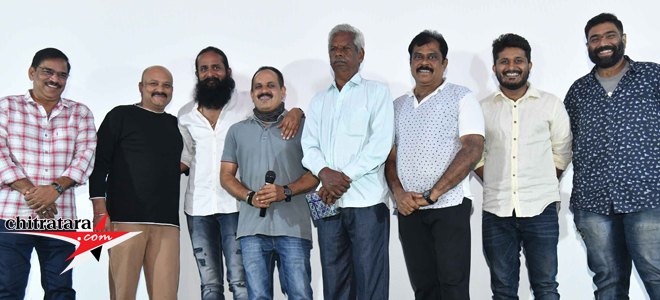 The champion in cinematography of Kannada filmdom Sathya Hegde (ever since Dhuniya in 2006) has been a topnotch when it comes to his SH production of short films.
A few months ago two short films of Sathya Hegde production (`Puppets` and `The Critic`) for young talents rocked with good results. On May 1, 2022 besides honoring the two senior technicians of the Kannada filmdom Sathya Hegde unveiled four short films that are in top quality, thinking and presentation.
Coinciding the May 1 – Karmikara Dinacharane Sathya Hegde honored 52 years service light man Suramani and another technician of four decades stint Sudhakar.
Firstly, KAALA, a brilliant performance from Manjunath Hegde and Aruna Balaraj takes you to the yesteryears – the topic is very convincing and the ending for this Vinay Shastri direction is extremely good. The line `Kaanada Aatave Baduku` strikes the minds undoubtedly.
The second one of nine minutes is 'Natakad Company' . It is so natural and real happening is projected. Nanda Kishor, eminent director speaking after this`Natakad Company` rolled back to his younger days with top actor father Sudhir and mother Malathi.
One minute `Sambrani` short film screened next gathered good attention. The last one to screen 9 minutes `Last Order` by director Prashanth depicted the plight of a food delivery girl played by Ramya Krishna is very touching. All the performers are natural and the quality is impeccable.
Topnotch lyricist Jayanth Kaikini appreciating the making of all four and going flashback to his college days of writing love letters on behalf of his friends.
Noted producer K Manju after watching 'Kaala' said he has a love letter of yesteryears even to this day. Another prominent director BM Giriraj said he would have pushed away after an earlier meet at the same place. I came back for Sathya Hegde, a cinematographer and my day is fulfilled because of the lovely contents in the short films he said.
Prominent producer today in Kannada film Uday Mehta he is moved with the quality and making. In the coming days he is interested in such short film making.
Well done Sathya Hegde and team!