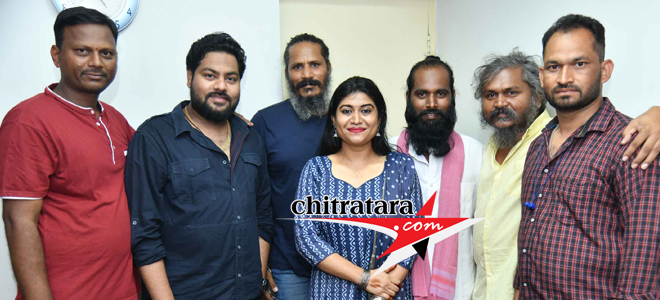 A team of Northern Karnataka persons is making a big sound from 'Huli Bete' – for the teaser launch and the introduction of hero Vishwa more than two times the capacity of Renukamba Studio resulted in an outstanding event.
After shooting for 105 days the people of Kalyana Karnataka headed by director Raj Bahaddur received industry heads Sa Ra Govindu, Praveen Kumar, SA Chinne Gowda, KM Veeresh presence.
This is a new effort, says Raj Bahaddur. There were hurdles in making this film. But KFCC like 'Thayi' and KFPA as father supported our team of 'Huli Bete'. No one should speak bad about our KFPA and KFCC urged director Raj Bahaddur. The support I got is nothing but winning half of the film. In addition to it the support of Dhanraj is unforgettable. The film is on emotions with love and bloodshed – this is a film from the black soil field.
I do not speak much and this has become a comment. That is my style. I have auditioned and selected the team and all of them have a theater background, says Rajabahaddur. Manju Swamy of theater activities is the main villain from this film.
Vishwa, protagonist of the film, says he had Rs1420 in the pocket that he put it Sri Raghavendra Swamy and asked for blessings. I faced a health issue for my father who is no more today. My mother stood behind me and supported me. I have worked as a delivery boy, done small characters in my past life said Vishwa.
Rohini is making debut and says acting in cinema was her childhood dream. Music director Harshavardhan and cinematographer Dhanpal also spoke on this occasion.This is Dhanubhai Cinemas maiden venture.
Master Anand, Babu Khan, Ganesh Vihaan, vishal Dorenahalli, rahul Gaikwad, Baby Ishani, Rakshit Dhanpal, Ashok Kamble, Nanjunda, Gilli Venkatesh, Hema Gowda, Shashi and others are in the cast.