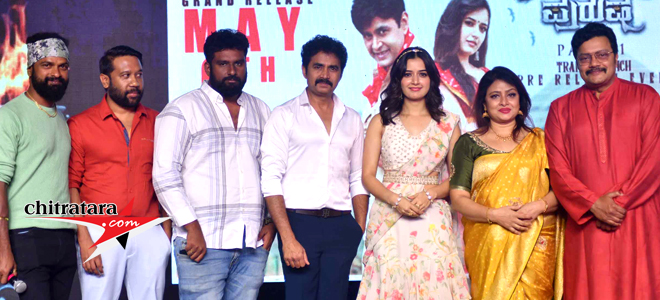 Another most expected cinema in the cans for quite some time because of Corona Pandemic gearing up for release on coming Friday. That is Pushkar Mallikarjuna production, Simple Suni directorial venture starring the very popular Sharan and Ashika Ranganath in lead roles.
DC of Bengaluru Manjunath was chief guest at this colorful event.
The new trailer of the film and a very interesting song of 'Avatara Purusha' released at the promotional event held at Four Seasons. Action Prince Dhruva Sarja released the trailer and blessed the team of 'Avatara Purusha'. I have seen positive vibes in this film team. The performances of Sharan, Saikumar, Srinagara Kitty and Ashika Ranganath are impressive and I would watch the film on the first day first show Dhruva Sarja said.
Noted actor Saikumar dialogue king remembered that 'Kattappa in Bahubali, Ayyappa in KGF 2 and Kittappa (Srinagara Kitty actor of the film) in Avatara Purusha has become viral in social media. Doing a role for the first time with Bhavya is a good experience, felt the top actor cum politician Saikumar.
Sharan in his address mentioned that `AP` is a multi star cinema and two heroes firstly are producer Mallikarjunaiah and cinematographer William David he said. This film has Anjaneya devotee Dhruva Sarja `Saath`. I am confident of this film winning in box office said Sharan.
Ashika Ranganath stated Kannada films are appreciated more and viewed, veteran actor Bhavya said this film has very good importance to the relations and also contains all 'Avataras' of life. I have shared screen for the first time with Saikumarji she mentioned.
Simple Suni in his address stated that he was apprehensive to give the script to Sharan. He liked it so much that, without caring for knee problems, he worked for songs. For the film love of Pushkar Mallikarjunaiah this film 'Avatara Purusha' should win. Srinagara Kitty had done a very good role in this film.
Another notable moment of the evening of 'Avatara Purusha' promotion is producer Pushkar Mallikarjunaiah`s father translated a book released by the team members. Producer Mallikarjunaiah on his three years project is very optimistic on results and he appreciated the skill of prominent actors of this film.
Sharan is in a junior actor role in this film – when acting comes for real life what is the situation for him is a one line story.
Arjun Janya songs are already popular in the social media. Vikram has done stunts.