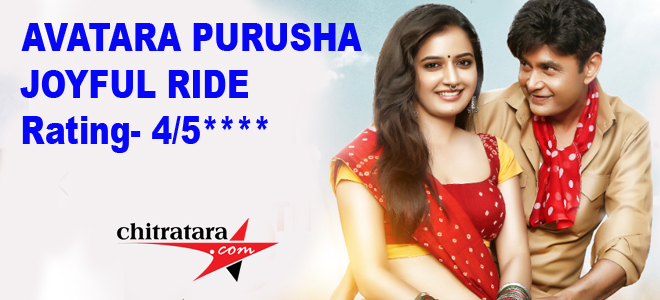 K.S.Vasu
Duration – 128 minutes, Category – family sentiment cum comedy, Score – 4/5
Title – AVATARA PURUSHA, Producer – Pushkar Mallikarjunaiah, Direction – Simple Suni, Cinematography – William David, Music – Arjun Janya, Cast - Sharan, Ashika Ranganath, Sai Kumar, Sudha Rani, Bhavya, Sadhu Kokila, Srinagar Kitty, Balaji, Ashutosh Rana, B Suresha, Vijay Chendur and others.
The much-awaited film of Pushkar Mallikarjunaiah noted producer 'Avatara Purusha' Part I in Simple Suni direction is not that simple. It is a lavish entertainer with human values giving importance to our ancient Ayurvedic medicine besides the black magic.
In the first part of 'Avatara Purusha' the Simple Suni and team maintained a good standard so that the audience would throng for the second part. Simple Suni knack of filling the family values, comedy elements and some striking issues is the hallmark right now.
Excellence in cinematography, good music, and tolerable duration of the first half of 'Avatara Purusha' has a familiar story.
Simple Suni had given the responsibility of a hero to the heroine of the film. The female protagonist promises her mother to rejoin the family of her brother. Accordingly, the onus is on the female lead to make the right match to suit the environment of Rama Jois, a famous Ayurvedic Pandit.
Karna (young Sharan) son of Ayurvedic Pandit and Susheela (Bhavya) is lost in the Belagavi fare. For this Siri (Ashika Ranganath) mother Sudharani is responsible.
After 27 years the family unites is the feeling you get when Siri brings in Anil alias Karna (Sharan). The story is different because of the precious of Trishanku Mani that is hunted by two vital Mantravadis specialist in 'Vamachara' – the narration especially in the second half startle you and the second half that surround 'Trishanku Mani' is another good pack to watch.
Sharan is freestyle doing more than ten 'avataras' , his dialogue delivery, costumes and of course acting is a treat to watch. Equally good is Ashika Ranganath, a very sweet beauty.
Sai Kumar has a cool and composed role, Bhavya and Sudharani have good roles. Balaji, Vijay Chendur and his partner are impressive.
Arjun Janya has given three lovely tunes – the introduction song Karunada Sharana, Soorya Kirana Iva and the duet with Ashika Ranganath is gloriously shot.
William David right from 'Rangi Taranga' days is giving his best. It continues in this film. The huge locations with black background are attractive in his lenses.
Editing is another additional value to this film 'Avatara Purusha'. This is a family entertainer.