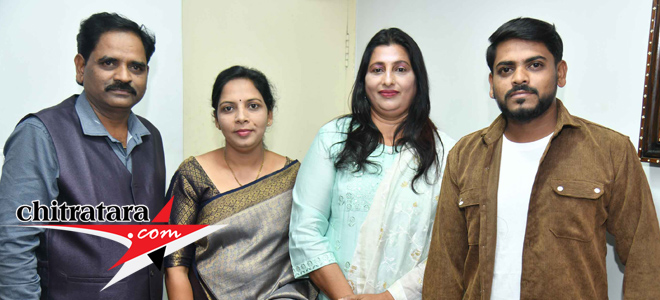 A film by Malasambha Combines - producer, director, screenplay, story, dialogue, lyrics writer Mallesh Yedehalli mother name banner Mahabali is nothing but Putra Vyamoha. The protagonist Prithviraj Yedehalli is the son of Mallesh hailing from Shivamogga.
Mallesh, running the hotel business in the last 45 years, invested Rs.50 lakhs on this film and he started this project six years ago.
The moral values are not taken care of in the present generation. The protagonist has his family to take care of, the family values are dipping but this film has outlined the guideline and awareness says multi talented Mallesh Yedahalli.
Prithviraj says his father had given the clue to get ready for the lead role and trained me. The story is done in two years. My father is on the successful steps proudly says Prithviraj.
The female lead Manvitha Raj, villain and his sister character actor could not make it. The protagonist`s mother, actor Puhpa, remembered the good days of shooting but felt unhappy for not dubbing for the film.
Rathasapthami Aravind, Vasudev Achapura, Souparnika, Nootan, Yuvaraj, Umesh KL, Acharya Raghu and others are in the cast
Ravi-Vasu cinematography, Raj Bhasker music, Jai Master dance, Jagwar Sannappa handled stunts, Kavitha Bhandari handled editing for this film, Siri Music Chikkanna brought the audio to the market.