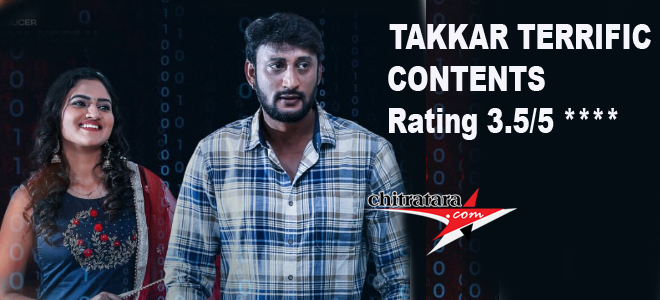 Title – TAKKAR, Producer – Nagesh Kogilu of SLN Production, Direction – Raghu Shastri, Music – Manikanth Khadri, Cinematography – William David, Cast – Manoj Kumar, Ranjani Raghavan, Bhajarangi Loki, Ashwin Haasan, Sumithra, Sridhar, Sadhu Kokila, Jai Jagadish and others.
Another six feet tall actor from the close family circle of challenging star Darshan – Manoj Kumar arrives. The arrival of the hero with the significant subject of cyber crime is precisely what is required. The world today is immersed in cyber technology. The film depicts the danger in the cyber world.
Director of 'Run Antony' Raghu Shastry has made a convincing film living up the present requirement in the entertainment field.
The protagonist Sathyaki (Manoj Kumar) is son of a cop father and lawyer mother. Obviously, he is filled with discipline and he cannot tolerate injustice. Once he takes law to his hands and father arrests him and mother, a lawyer release him on bail. On the other side is a student Punya (Ranjani Raghavan) who considers every life precious.
Punya and Sathyaki fall in love but the treacherous side of cyber crime makes entry at this time. Sathyaki gives counter for counter in a fitting way. He unveils the cyber crime that led to the innocent girls committing suicide.
Manoj Kumar shines with dialogues like 'Neenu Takkar Kodok Bandirodu Yaar Jothe Goththa? Dasan Garadi Hudugan Jothe…dialogue and stunts are sure to make him the mass hero.
Ranjani Raghavan 'Kannadathi' today has given an affectionate performance and she has tons of opportunities in her career. Bhajarangi Loki as a key villain strikes again on a terrific note in the second half.
The veterans like Sumithra, Sridhar, Jai Jagadish, Sadhu Kokila and Ashwin Haasan were given very good support in the supporting roles.
This is a timely film for those who are involved in cyber activities.