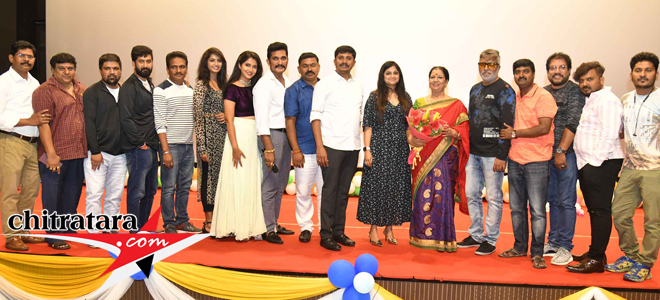 An interesting title, very interesting team headed by three producers from Food industry, politics and scientific field with Nagendra Urs direction 'Kandhidi Nodona' is not just one part the sequel of it is also planned already.
This was evident from one of the actors at the prerelease meet at Kalavidhara Bhavana recently. Noted producer K Manju, Ramesh Reddy and others graced the occasion.
Divya Alur, an anchor and singer, has delivered a song for the first time in 'Kandhidi Nodona' by Sridhar Kashyap music director. The song Kodthal Nodo Machcha…screened in the presence of the media, film team and guests. This is my first mass song, says Divya Alur, a talented anchor and singer.
Girijamma the senior actor started with a Hip Hip Hurray for the team and brought a cheerful mood…. I thought it was a small film but after seeing it, I felt Abbabba… Nagendra Urs father has done so many good roles, like his father, a Runa for his father Sundarakrishna Urs I feel she started applauding Nagendra Urs direction. Soorya not only acted well but also looked after my food.
Nagendra Urs says we have half won because of Girijamma blessing. Audience should find out now and tell. Man Leo creations supported well, Pranav given opportunity, I had done editing and DI but for this I am edited and Vishwa has edited. This is a mental team because they used to call at midnight. After 13 years, Vishwa is editor for my film. He was my assistant in the Rocky film, he added.
One of the producers stated that it is my young age dream to make a film. This team worked fine and gave good results. It was Divya madam who approached me with the story. Nagendra Urs has done very well as director. It is releasing on 20th of this month. Annually I want to do a film with this film result. Let Pranav Soorya shine like Yash. Nagendra Urs directed Rocky starring Yash.
One of the producers Divya (scientist) says it is a four years project and heard the concept in twenty minutes. I did not expect this would grow so well. This is a technician`s movie. Do not ignore our movie because of the appeal she made. A good hero and mass hero and technical team plus Priyanka the industry would find. Political, Scientist and Food industry persons are producers of this film. In the success meet, I wish to meet everyone.
Psycho Shanker hero Pranav Soorya now in his second film says it is a suspense thriller. The slang I liked very much in the film. Jogi Prem came for singing, Kumar approached for 10 lakhs posters etc.
Female lead says she wants to thank the team for support. I love the hero in the film but he does not give time for me and how I manage is the crux of the film.
I am in a key role and it carries for the next part stated another heroine. Roller coaster ride movie it is. Action portions are good in this film.
VCN Manjunath thanked for the support of K Manju and Ramesh Reddy. Pranav has fulfilled his dream. He has many goals ahead, he added.
Music director Sridhar Kashyap pre release meet and hope to join again he said and thanked everyone such as Suresh Babu, Girijamma, K Manju, Kumar, Ramesh Reddy, Vijay Chendur – Divya, Shashi and Kumar producers and others
K Manju and Ramesh Reddy wished the team of 'Kandhidi Nodana' all the best on this occasion.