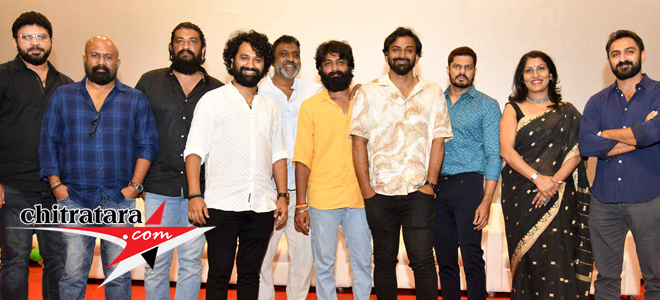 Here is an intelligent, disciplined and experienced team lead by senior short film maker Jaishanker Pandit with `21 Hours` – the trailer of this film was unveiled at Dr Ambarish Auditorium and it looked to be a taut thriller. The very popular actor Dolly Dhananjay heads the actor`s team.
This `21 Hours`is slated for release on 20th of this month and on 21st is the reviews seen in print media.
This film in `Aham Conceptam` is Jai Shanker Pandit and this is his debut. He is not an ordinary person. He directed toppers like Amitabh Bachchan, Aishwarya Rai and others in his short film made for corporate bodies. Jai Shanker talks about the Malayali girl lost in Bengaluru. Dolly Dhananjay is the investigative cop. I had seen his Tagru and he is a director`s dream actor, says Pandit. The events of this film are shown from morning 10 am and 7 am the next day. For this Aham Conceptam there are a few more films lined up, I would take up a few he says.
Pandit immensely lauded his cinematographer Tiru for giving him comfort zone in the debut. There are plans to release this film in Malayalam but the accent of Kannada will be Malayali slang for some portions.
Dolly Dhananjay remembered this film coming at the first lock down of Corona Pandemi was very useful and at the same time convincing one. The passionate team executed the film very well. It is a good investigative thriller released in KRG Studio, I play an undercover cop and it is a good experiment for me that requires changes in the expressions of emotions, he said. Dhananjay`s friends asked him in which `Gap`you acted in this film after putting a post in social media.
Sudev Nair seen in `Old Monk` Kannada film also thanked the team for giving him a job at the Covid peak time everyone was craving for. We need everyone`s blessing for the success he pointed out.
Rahul Dev, actor of Coffee Thota, is in his third Kannada film. An Udupi based actor came from Kerala for the trailer release event showing how compelling this film is. He has dubbed a few portions in Malayalam.
Producers Balakrishna NS, Abhishek Rudramurthy, Shobha executive producer, Sunil Gowda, Praveen Mahadev, Ravi Kumar, Cockroach Sudhi and others were present at the trailer release event.
Durga Krishna is the female lead. Thiruvannakarasu (known as Tirru – recent one is Chiranjeevi Acharya) is cinematographer. Rupert Fernandez scores music, Richard Kevin editing, Prataap R Mendon art, Sukruth V and DV Balasubramanya dialogues part of the technical team.