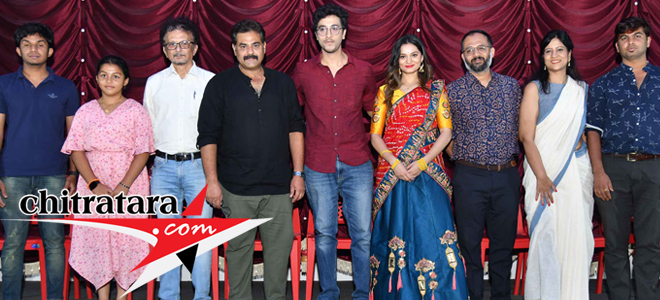 The sweet Chaco guy Sumukha, son of veteran actors Shashikumar and Nandita (both in cinema, TV, theater fields for over three decades) is making debut as director and as 'Physics Teacher' Kannada film that is hitting silver screen on May 27, all over Karnataka.
Physics Teacher screened at 13th Bengaluru International Film Festival got wide acclaim. Veteran writer Manu Chakravarthy recommended watching this film because it is out of formula and needs encouragement, he says.
Sumukha, who has been in the art field for quite some time, is very happy for the appreciation for trailers on social media. It is not art but has a bunch of commercial elements in it. All the artists extended good cooperation. I need the blessings of everyone, he stated.
Female lead in the film Prerana Kambam is extremely happy for the response the film is getting for the trailer and a song.
Rajesh Nataranga, a terrific actor in character roles, says he had seen Sumukha from childhood. From this film, he turns out to be a good director and more than hat he is a good actor. I am confident that the film would get the audience applaud for it.
Father and producer Shashikumar, Nandita, writer and journalist Jogi, story writer Skandha Subramanya and Akshay, production controller of this film spoke at this pre release event.