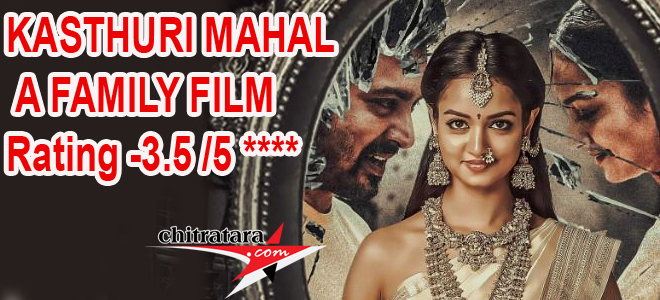 Duration – 120 minutes, Category – family drama, Score – 3.5/5
Title – Kasthuri Mahal, Producer – Ravish RC, Direction – Dinesh Baboo, Music – Gautham Srivatsav, cinematography – PKH Doss, Cast - Shanvi Srivastava, Skanda Ashok, Shruthi Prakash, Rangayana Raghu, Ninasam Sathish, Kempe Gowda, Vatsala Mohan, Roopa Prabhakar, Kaashima Rafi and others.
Whenever director cum cinematographer Dinesh Baboo films comes the expectations of a section of audience is too much. This time with a beautiful title director Dinesh Baboo gives a horror touch to his narration and makes the second half especially interesting.
What is 'Kasthuri Mahal' – it is a 700 years old book and it is the ancient home of the female protagonist. In one of the archaeological works, Shruthi Prakash steals this book, as it is her habit to pick anti values.
This book 'Kasthuri Mahal' is interesting because of various incidents tucked in it. Love is eternal is the essence of this film but how it is narrated in a sober, sensible and intense way is the hallmark of this film.
A team of ad filmmakers find an interesting place near Mudigere and decide to commence the work at the Kasthuri Mahal house. Before that they find some strange things that shocks everyone.
At the house where Shruthi Prakash is residing her uncle traces the danger of this book and organizes an encounter via Pooja. When the Pooja does not materialize, some more hurdles strike and surprises.
The Ghost speaking, paying bribe a gold ring and bagful of money to Kittappa alias Rangayana Raghu also happens in this Dinesh Baboo film. How the love is eternal – you have to watch this film.
Shanvi Srivatsa in the lead role is soft and sensible in her performance. But her capacity is not put to test. Ranganaya Raghu scores in his role, Skanda Ashok and Shruthi Prakash look well set for the roles.
There is only one song that comes in the background very haunting in tune and cinematography of PKH Doss is top class.
The fragrance from the past is a family watch film.