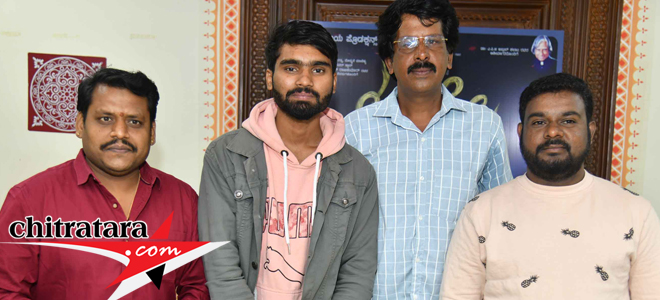 Director of films 'Pritiya Loka' and 'Love is Poison' Nandan Prabhu giving up his job in KSRTC in 2019 returns to direction and production of his third film 'Oriyo'.
Nandan Prabhu gathered a lot of attention for his earlier film 'Love is Poison' hero Rajesh of Halli Hyda Pyateg Banda winner succumbing to death in mysterious way and national sensation Poonam Pandey appearing for an item song.
After six years Nandan Prabhu comes with an inspiration from the sayings of former President of India Dr APJ Abdul Kalam, He launched thefilm in last November and has one song shooting balance. According to his study Oriyo means 'Katthale and Belaku'. He had shot for the film in Sakaleshpura, Madikeri and Bengaluru. There are two songs and two action portions. The issue that Nandan Prabhu raises through this film is that in future it might happen like this. What is that? You have to watch the film, he says.
Nitin Gowda, Suchit, Shubi of Rajasthan and Yuktha are in prominent roles. Saikiran has done melody tunes and a party song. This is his sixth film and he hails from the camp of V Manohar.
Suchit is the son of producer Dharmasri Manjunath. He had acted in Rathavara, Vaira and Putani Pantru in the past. He is in a cab driver role,Yuktha is his pair and journey to forest results in so many developments. There is a horror element too, he says.
Chakravarthy is the hero`s friend and is also a cab driver in this film. Egari Egari…(jumping) he participated in action portions.
The official producers of this film are Vijayasri RM and Vaishali YJ. Byatappa Gowda Prabhakar is cinematographer.