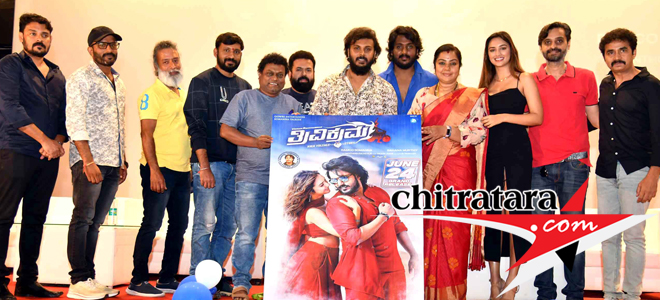 The Kannada film with high voltage love story debut of Vikram Ravichandra is setting screen on fire on 24th of June all over Karnataka in Kannada and other languages.
Sahana Murthy of super hit 'Rose' multi star 'Leader' is in his third film, in fact this is third materializing first for Vikram, the third project of producer Somanna all makes 'Trivikrama' a suitable title but once you enter the theaters the high voltage gives you lots of surprises.
Somanna, a friend in the last 26 years for Sahana Murthy, fulfilled his promise to produce a film for Sahana Murthy. The film took shape three years ago and is now ready to conquer. Akanksha Sharma is the female lead and says she cannot expect anything bigger than this launch for her.
Vikram Ravichandra cool and conformity spoke on the making of this film and how Power star Puneeth Rajakumar heard the story on the sets of 'Yuvarathna' and Vikram should dance well otherwise I will beat you he said with affection. I am standing with Appu`s portrait today but he has not gone anywhere,Vikram said. Appu voluntarily said that he would sing a song for this film. We got it ready but did not shoot it. we would use that song for promotion. This is a film with a middle class subject. I know that the media is thinking why my father did not come to this meet but he will turn up when necessary and tell Vikram with confidence.
Manuranjan elder brother of Vikram said in all respects he is elder to me because he acted in Malla first and later in Hatavadi. I am not permitted to his sets but he comes to my film shoot he explained.
For the making video release top actors Thara, Sharan, top directors Santosh Anand Ram, Bahaddur Chetan, senior director Shivamani, Adhi Lokesh also actors in the film graced the occasion and blessed the film team of 'Trivikrama'.
Producer Somanna is sure of winning from this film. Arjun Janya one song Mummy Please Mummy with huge popularity screened at the making video release meet.