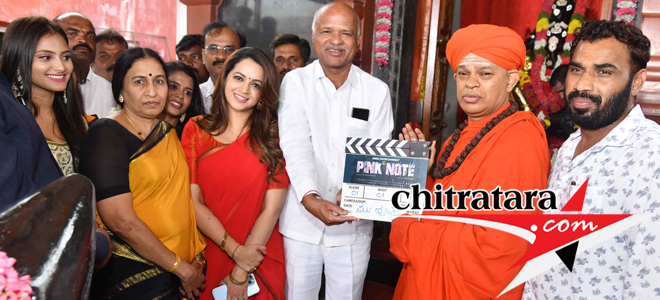 If you go behind money what are the issues you have to face is the crux of 'Pink' Kannada cinema. Obviously it refers to the Rs.2000 currency note, it has got nothing to do with the 2016 Hindi 'Pink' cinema starring Amitabh Bachchan and Tapsi Pannu that made a big sound by 'No Means No'.
Apparently, this film Pink features the talented and beautiful Bhavana Menon in the lead role. At the Rajarajeshwari Sringagiri Sri Shanmukha temple the maiden shot was clapped by Dr Sri Shivamurthy Murugaa Math Swamiji, Davanagere political heavyweight H Anandappa is investor for this film in Amma Entertainment and Diganth is director of this film.
Meanwhile Diganth, going by the astrological calculations of Sri Rudresh, changed his name as Rakshan and directs this film based on true incidents, writing story and screenplay.
The base for the film is the events in 2010 in Mangaluru. How a woman faces trials and tribulations from money is analyzed in the film. Director had picked a few reports in the newspapers.
Jackie Bhavana, familiarly known as and daughter in law of Karnataka is in double role. She is in a role that she had not done before.
The hero will soon be added to the cast of Padmaja Rao, Srinivasa Prabhu, Nisha and others.
Another interesting factor is that major shoots for the film-taking place at Dubai Ras al khaimah and rest in Bengaluru, Udupi, Malpe, Chickmagalur locations.
Dr V Nagendra Prasad penned three songs for the music of Jassie Gift.