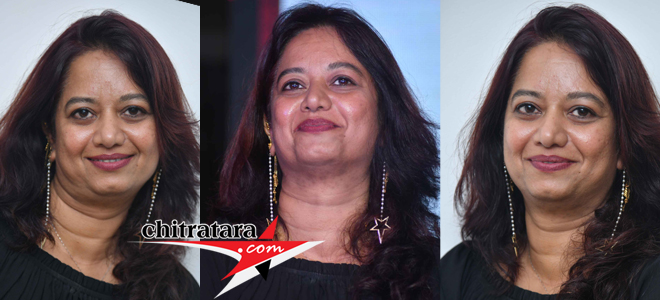 'Henmakkale Strongu Guru' is proved once again in addition to love and passion for cinema and Kannada language from Bengaluru born Dubai based Ms Bharathi Shetty, proud producer today of 'Baddis' Kannada cinema.
Kannada filmdom right from actress MV Rajamma (first woman producer of Radha Ramana in 1943) days has only a very few producers among them Dr Parvathamma Rajakumar is the topper. To this list adds Ms Bharathi Shetty.
Bharathi Shetty is back to her roots after 25 years of stay in Dubai managing an international standard Advertising agency. From short films to motivational films Bharathi Shetty is marching forward with a feature film. One of her dreams of making the script written by her father is also in the pipeline for a film.
Managing Partner at Aura Film Productions – Bharathi Shetty is an experienced Partner with a demonstrated history of working in the marketing and advertising industry. Skilled in Film Production, Broadcasting, Video, Television, and Media Production. Strong entrepreneurship professional graduated from Maharashtra University.
In fact, Bharathi Shetty born in Bengaluru had schooling in Bengaluru and moved to Mumbai as a banker father Mr Sundar and mother Smt Rathna settled with children. The regular watching of Kannada films by her parents and narrating the tale of Dr Raj, Vishnu, Ambarish and other films brought some sort of admiration to this Kannada lady settled in Dubai. An avid film viewer Bharathi Shetty`s father prepared a script for filmmaking but it could not materialize on silver screen.
The journey Bharathi Shetty made to this feature film Baddis is also interesting. After knowing the credentials of Guru Tej Shetty she asked him to give audio of the narration at 7.30 evening in Dubai timing. She closed the light and started listening to the script until 10 pm – she found interesting elements every fifteen minutes. The entire film was in front of me, she says with pride. That was the beginning for 'Baddis' – knowing the entry of Kiran Raj, a popular actor on the small screen, Bharathi Shetty confirmed that she is on the right path. When actors like Gopal Deshpande, Kannada filmdom Nawazuddin the additions went up for the film. Siri Prahallad, dance director Dhananjay who made one take song, made it important for the film.
The film Baddis is on the importance of life, I have met the right baddies in life and so am marching forward with good goals, adds Bharathi Shetty.