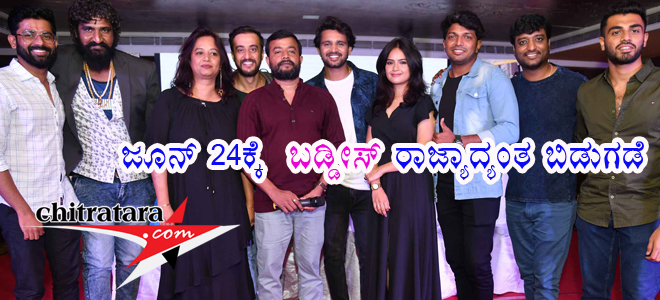 A college campus tale with sentiments and action 'Baddis' by Dubai based producer Bharathi Shetty is in the direction of Gurutej Shetty (he was Guruvendra Shetty from 5G Kannada film), featuring handsome looking Kiran Raj (of Kannadathi fame) and Siri Prahallad (of Ondu Shikariya Kathe) is ready with post production and slated for release on June 24 all over Karnataka to entertain family audience.
Among a few highpoints of this film the cinematographer Nibha Shetty of Hollywood films makes debut in Kannada. Three making videos and a lyrical song of the film got released at GoldFinch Hotel recently.
Interesting part is that special child Master Samarth, a big fan of actor Kiran Raj of Kannadathi mega television serial, released the song with the parents of Kiran Raj Mr Suresh an ex army official and mother Lalitha.
Hodi Maga Goli Madona Machcha Jaali….penned by director Gurutej Shetty is sung by Mysorean Naveen Sajju a state award winning singer. Judah Sandy composed the songs for this film.
This is the debut production of Ms Bharathi Shetty - a Bengaluru born settled in Dubai in the last 25 years and she wants to make another film with the script written by her father sometime ago. This is a film full of entertainment and got the right person for the film, she says.
Director Guruvendra Shetty changing his name to Gurutej Shetty says this film is all about the thick friends and a father-giving gift of friendship to his son. You would know the value of friendship in this film he says. I had given reading for 15 times and we are introducing a few talents from the film he says.
Kiran Raj, a famous TV actor making debut as hero, has Rohan, Vinay and Girish as his 'Baddis' in the film. Lankesh, Prithviraj are newcomers, he says.
The sweet chaco boy Kiran Raj of Mysuru says opportunities that come should be precisely utilized. I did not get this good offer so easily. I had to cycle for 9 years to be noticed from the 'Kannadathi' TV series. The struggle in mind motivates further progress. I was a junior artist, back dancer etc. I did a degree in filmmaking. This opportunity has come the right way for me, passion only builds our career, he believes.
The serene looking Siri Prahallad is in her second film and she is in Deeksha role of Deeksha, a girl friend of Amith played by Kiran Raj. The friendship value you would know on June 24 she says.
Dhananjay, popular dance director, had done two songs for this film and one of which is a single take song moving to different locations.
Gopala Deshpande the most happening character artist today has an interesting and tricky role with the name of Nitayand to play.