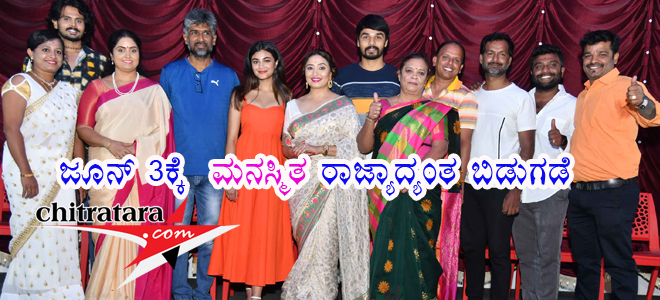 From the field of construction Appanna Santosh with a lot of care and caution entered the cinema field as director and producer of a horror-musical cinema with very melodious tunes from Hari Kavya.
That is 'Manasmitha'. Pallavi Purohit and Atul Kulkarni from Mumbai are in pivotal roles. Pallavi Purohit a Kumta born settled in TV world as an actor in Hindi TV soap operas acted in two Malayalam films one each with Mammooty and Mohanlal. The songs of this film are the USP of the film, which is pretty looking Pallavi Purohit.
With the support of my mother Jamuna and wife Deepika I have been able to complete this film – Atul Kulkarni is a musical teacher, Pradeep Shastry, Shilpa and others are in the cast. The film revolves around the struggle to fetch love. This film started in 2019 obtained censor and apparently one of the censor board members Surekha repeatedly saw the beautiful songs.
Charan makes debut as hero and he has no experience. Sanjana Das, a bengalurean is in Sania role and my role has good strength, she says.
The only senior technician of this 'Manasmitha' is director of cinematography KS Chandrasekhar. He has worked for a horror musical film for the first time. It is the past and present contents that attract audiences, he says.
With four melodious songs sung by top playback singers like Shanker Mahadevan, Hariharan and others Hari Kavya says the strongest elements of the film open up in the second half. A lovely tune that just happens, he says. He thanked the singers for experiencing it and singing.
A writer cum actor Rajendra Karanth has done a 'Manehalana' role in this film. He says musical films are very rare. After Kanakanade Sharade…here is one on Goddess Saraswathi in this family horror film with thrills he says.
Shilpa, a popular actor, is a mother with a positive note very different in this film. Pradeep Shastry of Challakere thanked for the very good professionalism exhibited while making the film.
K Kalyan has written lyrics for this film made in Jamuna Productions, Seethamma VT is official producer, Suchindra Prasad, Moogu Suresh, Kari Subbu, Veena Ponnappa, Sowbhagya, Pradeep Poojary and others are in the cast.
Madhu Tambakere editing, Kalai dance and Ramesh art direction are part of the film team.