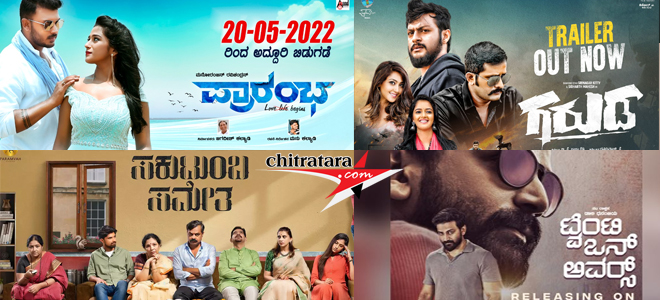 On the one hand, the Kannada cinema industry is going global with films like KGF II, on the other side the pending films are falling like a pack of cards!
In four and half months over 60 plus Kannada films were released, 9 films added to the list of films. A few films have made it to OTT – there was direct release for films like Man of the Match, a few are in the pipeline. Half a dozen dubbed films including RRR of Rajamouli were released but the report in box office for dubbed films is hopeless.
Out of 70 films until May 2022 – KGF 2 is top grosser worldwide (Rs.1100 plus crores collection) and a few films like 'James' (100 crore collection) 'Badava Rascal', Love Mocktail 2 were good in collections.
Among the average collectors at the theaters are Old Monk and Ek Love Ya.
Take a look at the films releasing on 20th May 2022
1. PRAMBHA – fourth film of Manu Ravichandra with Keerthi making debut. Manu Kalyad is the director for his brother`s investment. Manu Ravichandra has three shades in life. Don`t think after failure love everything is over. There is life after that the film suggests.
2. 21 HOURS - Aham Conceptam' Jai Shanker Pandit and this is his debut. He directed toppers like Amitabh Bachchan, Aishwarya Rai and others in his short film made for corporate bodies. Jai Shanker talks about the Malayali girl lost in Bengaluru. Dolly Dhananjay is the investigative cop.
3. KANDHIDI NODONA - An interesting title, very interesting team headed by three producers from Food industry, politics and scientific field with Nagendra Urs direction 'Kandhidi Nodona', Nagendra Urs is director, Pranav Soorya is protagonist.
4. SAKUTUMBA SAMETHA - The bride ready for marriage says a week before marriage that she is not interested in marriage. She tells the bridegroom family to come straight. What happens next is the interesting narrative of Rahul.
5. SARA VAJRA - A film on the novel of eminent writer Sa Ra Abubkar set in the Barry community background shot in coastal area 'Sara Vajra' (novel name is Vajragalu) A universal content film mainly focusing on the Barry community woman plight after marriage is based in this film.
6. CUTTING SHOP - Cutting Shop is a comedy entertainer movie directed by Pavan Bhat. The movie casts K.B.Praveen and Archana Kottige are in the lead roles along with Naveen Krishna, S.K.Bhagavan, Vatsala Mohan, Deepak Bhat, Abhishek Savalagi, Nikhitha Dorthodi and many others are seen in supporting roles. The Music composed by K.B.Praveen while cinematography done by Skanda Rathnam
7. KANEYADAVARA BAGGE PRAKATANE - Rangayaa Raghu, Ravishanker, Tabala Nani, Chikkanna, Tilak and others are in the cast of this film. Anil Kumar has penned the story, screenplay and dialogues for this film. Arjun Janya scores music, Shivakumar is cameraman, KM Prakash editing this film, Ravi Verma has stunts. It is AJ Takies and Bilwa Entertainment production packed with entertainment throughout the film
8. DARI YAVUDAYYA VAIKUNTAKKE - A film with 80 percent shoot in burial ground is 'Dari Yavudayya Vaikuntakke' Vardhan is the hero of this film. There is no horror, thrill, love and action. For criminals the hit back is from emotions. Pooja of Thithi fame is the female lead. Director Siddu Poornachandra has prepared a graveyard for the film shooting.
9. GARUDA - It is Dhan Kumar, a dance director turned director. Garuda - Srinagara Kitty, Ashika Ranganath, Aindrita Ray, Adhi Lokesh (heroes and heroines) plus Rangayana Raghu, Rajesh Nataranga, Ramesh Bhat, Ramesh Pandit, in comedy track Silli Lalli Anand, Giri, Jahagir, Sunethra Pandit are in the cast. Raghu Dixit has done music for four songs.