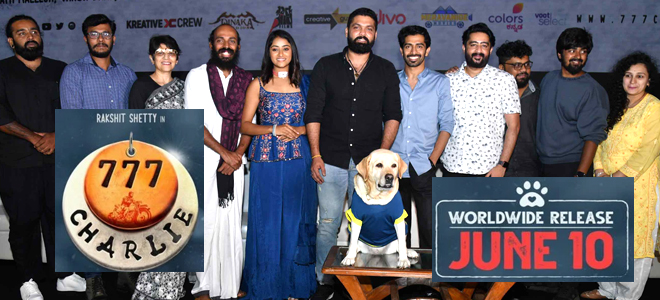 Another mega making, mega budget cinema starring Rakshit Shetty '777 Charlie' is all set to conquer in 21 cities via premiere and appear in hundreds of theaters on June 10. This is the debut of a knowledgeable, workaholic Kiran Raj.
Apparently the premier is happening well before the actual release. This practice was put into practice for 'Garuda Gamana Vrishaba Vaahana' and it clicked very well. The talk it creates from premiere shows and the emotional journey the film carries would fetch a long run in the theaters is the hope of Rakshit Shetty.
A film by Paramvah Studio and GS Gupta held a pre-release event at a private theater and screened the well-designed trailer. According to reports the response for the trailer of '777 Charlie' is huge and over 1.30 crore audience have watched it.
777 Charlie Telugu versions are released from Suresh Production by actor Rana Daggubatti. Besides that this pan India cinema releases in Hindi, Tamil, Malayalam languages. Already Colors Kannada was given a whopping price for the digital rights.
Rakshit Shetty addressing the media remembered three prominent personalities Puneeth Rajakumar, co producer GS Gupta, actors Somashekhar and Bhargavi Narayan. In the presence of debut director Kiran Raj, Raj B Shetty (Veterinary doctor in the film) female lead Sangeetha Sringeri, music director Nobin Paul, Cinematographer Aravind Kashyap, Editor Prateek Shetty, executive producer Ms Krishna, Pramod BK, Ullas production designer and costume designer Pragathi Shetty on dais with guests Rishab Shetty, Pramod Shetty and others media briefing held recently.
Rakshit Shetty recounted the journey of director Kiran Raj and in making the film he had given torture for everyone. I have done whatever he said and I did not use my brain, he admits. We have done the film with passion and dedication he mentioned.
Rakshit Shetty on his journey in the profession says Ulidavaru Kandanthe filled with innocence, Kirik Party there was need, Avane Sriman Narayana learning experience and in '777 Charlie' I have come a full circle he adds.
Kiran Raj, taking nearly one hour, went on a flashback of five years of his life in the cinema industry and in detail explained the growth of his life to the day of independent direction. I can`t pay back the debts he admitted and thanked everyone for tolerating him. I have adopted the pet 'Charlie' in my life and it is so affectionate to me, he says.