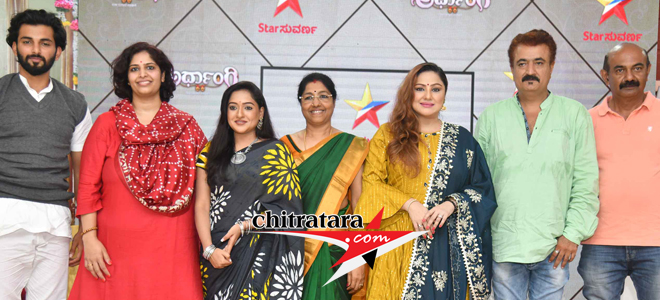 The popular television channel Star Suvarna is coming up with a meaningful and poignant content 'Ardhangi' mega serial. The telecast of 'Ardhangi' is from 23rd May at 7 pm from Monday to Saturday.
Ms Sushma, business head of Star Suvarna welcomed the brand ambassador of 'Ardhangi' Smt Priyanka Upendra and stated that the mega serial has an incredible story.
The star Survarna mega serial 'Ardhangi' is about a 28 years youngster with an 8 years age mindset and his wife – Prithvi Shetty and Anjana Deshpande play the roles.
At the media briefing Aruna Chetana principal Gayathri P urged for the makers to show the topic without hurting the disabled persons. Producer Srinath, an experienced maker on the spot, promised not to show anyone in bad taste. Meanwhile the reason for conducting the media meet at Aruna Chetana is that the male protagonist of 'Ardhangi' stayed in this place to get inputs for this mega serial. Aruna Chetana Gayathri stated that the institution working for the disabled since 1987 with over 180 students in five branches is ill equipped and falling short of funds. She urged donors to support the cause of Aruna Chetana.
Srinath Raghuram, a veteran maker, explained how the story cropped up from his friend Shilpa in his address. Director Kumar mentioned that he is very confident that 'Ardhangi' is liked by the womenfolk and he wants to go on till the popularity of it continues.
Anjana Deshpande (very sad that she lost her father in the Covid time) is a popular cinema and television actor who returns to the small screen after nine years. This particular role is demanding maturity and I like versatile roles. This is an intense role and I feel proud to be part of 'Ardhangi'.
Prithvi who has a child-like mind on the first night of his life with Adithi ask her to be his mother that shocks her immensely. Prithvi visited the Aruna Chetana to give proper need for the film and he also watched a few films of this content before coming to the camera.
Srinath Raghuram makes Ardhangi in Images banner. Prithvi Shetty, Anjana Deshpande, Mandya Ravi, Padmini Prakash, Neethu and others are in the cast.