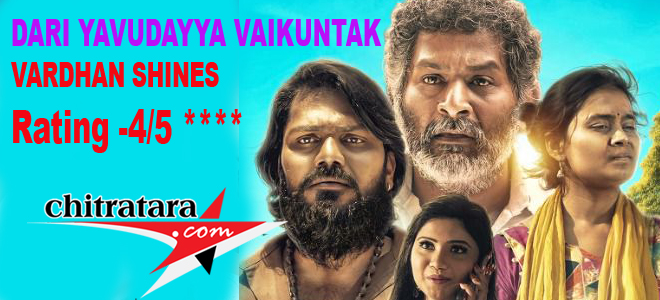 Duration – 123 minutes, Category – Emotional Drama, Score – 4/5
Title – Dariyavudayy Vaikuntakke, Producer – Sharanappa Kotage, Director – Siddu Poornachandra, Cinematography – Nithin Appi, Music – Loki, Cast – Vardhan, Bal Rajawadi, Pooja, Sheeba and others.
This is a revelation: the film 80 percent shot in the burial ground is 'Dari Yavudayya Vaikuntakke'! The song Yake Badadathe Tamma….Olithu Madu Manusha….strikes the mind after watching the film!
The film is close to reality and one should watch this film for realities – when the cruel and the honest come close, what is the future?
A cruel (Vardhan) with money in his bag and wounded for having killed two persons come to a remote place and he is unconscious. He is given affection by a family that manages the burial ground. At this place, a lot of realities of life opens up and the cruel man leaves the place with his bag containing money at the burial ground house where he stayed for three days. The ailing mother, the pregnant daughter, struggling father family where Vardhan finds a place is to live for three days.
All should go one day and what is the meaning in having tiffs in life - With a few episodes of the dead ones strikes to the minds and melts the stony hearts.
Director Siddu Poornachandra of Krishna Garments cinema holds a mirror to the society. Opening up the stark realities he tries to correct the society in his own way.
Actor of sundry roles in 35 films Vardhan has given a brilliant performance and this is his career best. The role of a criminal and later turning emotional is quite convincing.
Pooja of Thithi fame position in the film is astonishing. Bal Rajwadi as graveyard man stuns in his performance.
Cinematography and the background music lift the emotional journey of the film.