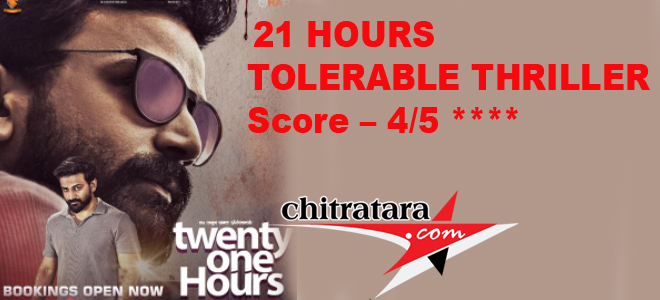 Duration – 116 minutes, Category – Crime Thriller, Score – 4/5
Title - 21 HOURS, Producer – NS Balakrishna, Abhishek Tumkur Rudramurthy, Sunil Gowda, Praveen Mahadeva, Aham Conceptam, Direction – Jaishanker Pandit, Music – Rupert Fernandes, Cinematography – S Thirunavukarasuu, Cast - Daali Dhanajajya, Durga Krishna, Sudev Nair, Rahul Madhev, Dinesh Baboo and others.
This is a different kind of thriller subject – in fact 'Beliye Eddu Holavannu Maida Kathe' (fence eating the crop)! The police in connivance with politicians dominate. In the second half, the debutant director gives an extremely good surprise and his experience is predominantly seen.
21 Hours the title itself is something interesting. For the viewers of 'CID' and 'Adalat' television serials in Hindi this is well below average. For the cinema audience this film has quite an engaging second half.
The director of hundreds of short films and advertisement films should have pushed his first half with more captivating elements.
A Malayalam speaking girl Madhuri goes missing. She is the daughter of influential father played by Dinesh Baboo. Now it is the responsibility of undercover officer Srikanth (Dolly Dhananjay) to trace her.
This investigation of Srikanth on the advice of a politician gives a clue to the discerning audience of thriller films. Yet Srikanth interrogates the husband of Madhuri and his mother, boy friend Rahul – stitching his own story drag in the first half.
After interval developments shocks the audiences but how Srikanth puts his curtain to get back the same case to his custody is an interesting factor of the film.
For Nata Rakshasa Dolly Dhananjay it is a cakewalk but it is not so for his huge fan following in the first half. The vigor his role carries in the second half is the satisfactory point.
The cinematography of an able personality S Thirunavukarasuu is a value addition for this film. The background score is adequate.
Jaishanker Pandit is a professional for many advertisement films at the national level in a short span of time. Why he has relaxed in the first half of the film is the question that obviously comes to mind.
21 Hours is no doubt a second half film!