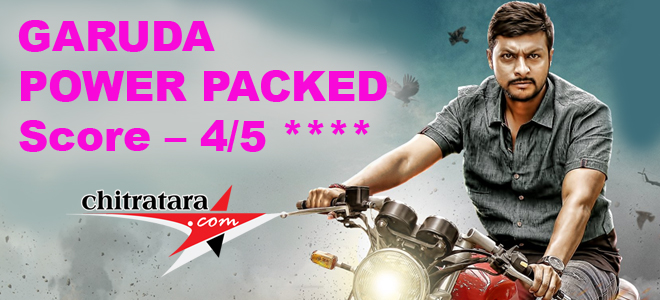 Duration – 145 minutes, Category – Action drama, Score – 4/5
Title – GARUDA, Producer – Prasad Reddy, Direction – Dhanakumar K, Music – Raghu Dixit, Cinematography – Jai Anand, Cast - Siddharth Mahesh, Srinagara Kitty, Aindrita Ray, Ashika Ranganath, Kamna Jethmalani, Rangayana Raghu, Adi Lokesh, Ramesh Bhat, Mico Nagaraj, Ramesh Pandit, Ravi Shankar, Sujay Shastry, Rajesh Nataranga,Petrol Prasanna and others.
After a few choreographers taking up the mantle of direction now it is another dance director Dhan Kumar coming up with a power packed film 'Garuda'. The box office formula of a commercial cinema is maintained in this long drawn out film.
Besides Siddarth Mahesh excel in his, Srinagara Kitty as cop shines while Adhi Lokesh trouble shooter appeared with competence.
The first half is the introduction of all characters that consumes more time and the movie begins with Ram (Sidharth Mahesh), Anu (Aindrita Ray), Shankaranna (Rangayana Raghu) and a few others maintaining a hotel in Goa for livelihood.
Anu, fostered by Shankaranna, falls in love with Ram. She thinks that Ram is a coward and has no courage to counter anti-social elements. However, she happens to witness Ram thrashing a few drug addicts. She demands Shankaranna to tell her the truth about Ram. Now, the director narrates how Vikram alias Ram was preparing for the IPS exam and how happened to encounter Kalinga`s (Adi Lokesh) followers. In addition, Vikram`s elder brother Sampath Kumar (Srinagara Kitty), an Assistant Commissioner of Police, encourages him to help police to seize drug suppliers. What happens to Vikram and whether he will marry his sweetheart, Priya (Ashika Ranganath) is the climax.
Sidharth Mahesh, who wrote the script, apart from acting as one of the heroes, is convincing. He is very good in stunt sequences because of his physique and height. After Sipayi in 2016 this is his second movie in Chandanavana.
Srinagar Kitty, as a police officer and an affectionate brother, has acted well. Aindrita, Ashika Ranganath, Kamna Jethmalani added glamour. Rangayana Raghu, Adi Lokesh, Mico Nagaraj provided good support.
Director Dhanakumar tried his best to convey a message on the ill effects of drugs and counterfeit currency notes. Many of the scenes are full of actors. The consolation is introducing songs at frequent intervals to break the monotony.
It is worth watching for those who love action dramas.