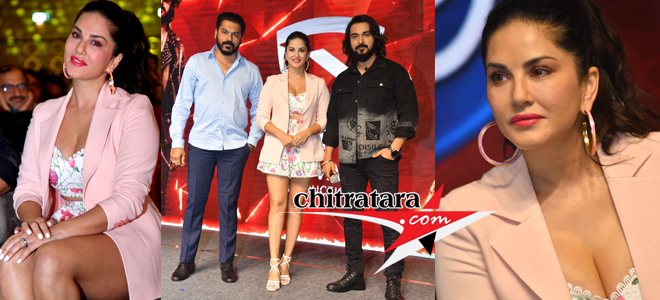 The sexy Sunny Leone comes to Kannada cinema for the third time for an item song. I am given a full-length role ready to act in it she stated addressing at the 'Champion' audio launch at Sheraton Hotel.
Sunny Leone is 'Dingara Billi aaru molada saare uttiddi….in this 'Champion' Kannada cinema. She was stunned at the inaugural fireworks done inside the auditorium 'Kuch to warn dho….she told the organizers.
The lyrics of the song screened for a very good attendance. Lahari Velu audio and video house is releasing the songs on its YouTube. Ajanish Lokanath has done music for five songs. Dingarabilli...song is choreographed by Imran Saradaria. Shivu Beragi wrote the lyrics for this song. Shashank and Indu Nagaraj lent their voices for this song.
Producer Shivanand has done this film for his friend Sachin Dhanpal as hero. We have difficulty in life but we should surpass it and grow, he said. This film started in 2019 and I pray for the peace of 'athma' of director Shahuraj Shinde who passed away because of Coronavirus sometime ago. The film wins Shindhe Athma will be happy, hoped producer Shivanand. Enthusiastic producer Shivanand further said that until the film is released, going home is doubtful.
The macho looking Sachin Dhanpal video screened showed that he has prepared well and decided to stay strong in the cinema field. He left his bank job and prepared strongly. It is a film on village youth making a big impression at the international level. His family is army based – his father, brother, relatives are serving the nation. He thanked Sunny Leone for making the shoot comfortable for him in the song 'Dingarabilli…..
Lahari Velu lauded Ajanish Lokanath for good scoring. The first song on friendship is unique and got released also in different ways. Hope for good results for the film 'Champion' he said.
Sharavanan cinematographer stated that it is a big commercial cinema. Dance director Dhanu stated five important persons connected to the song. Murali and Imran Sardaria are the other two dance directors for this film.