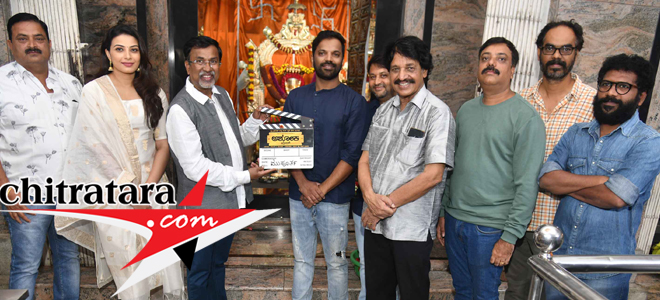 This is the time of sharp automatic razors to trim, shave and cut your hair at home. This 'Ashoka Blade' in fact takes us back to decades ago.
For the launch of 'Ashoka Blade' Kannada cinema giants of small screen TN Seetharam, Ravikiran, Sihikahi Chandru and national award winning director P Seshadri graced the Dharmagiri Sri Manjunatha Swamy temple. P Seshadri showed clapboard while TN Seetharam switched on the camera.
This film is based on the proprietors and workers confrontation, says director Vinod Dondale who has good experience as episode director in the camp of TNS and P Seshadri. Vinod with Vardhan and Deepak Naidu started a production house ten years ago. We thought of making a movie and went to writer TKDayanand for his assistance. The story was impressive and Ninasam Sathish agreed to work for this film stated debutant director VD
Popular actor Satish recalled that he found the subject interesting and sent director to TK Dayanand. There is a historical battle – ten minutes ten thousand take part in the battle. I hope VD will bring this episode to Ninasam Satish. A superstar will be part of this war episode. In Uttar Khanda and Mumbai shooting schedule is planned. Ninasam Satish is joining the team in July.
Pretty looking Kavya Shetty is donning the cop role and thanks the team for a good opportunity. Dayanand`s story was immensely liked by Vinod and we decided to make the cinema on a big budget, stated producer Narahari.
Dayanand TK recalled the base for the story that is happening in 70` in Mysuru. It was not recorded but I went in search of some of the developments. This is the story of valiant persons of Kannada Nadu. It is a clash between two communities. The story of proprietors and workers. He further met the people connected to it. Based on that I constructed the story.
Poornachandra Tejaswi is composing music, Lavith is working behind camera, B Suresh present at the media briefing of 'Ashoka Blade'.