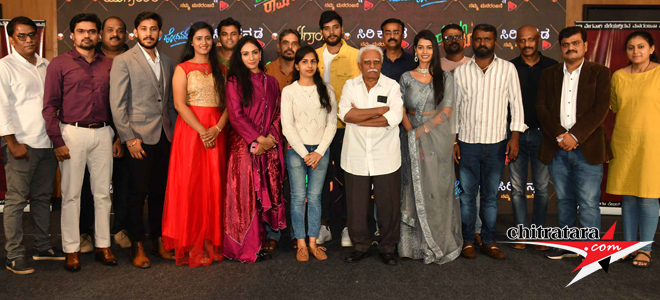 The fast growing Siri Kannada channel in the last three years has given some exemplary programs and it is now with great conviction in giving content driven programs. Some of the programs like Touring Talkies, Life OK, Dhruva Nakshatra, Narigondu Seere, Hasya Darbar, Daravadagondu Love Story, Wife of Krishnamurthy, Amara Madhura Prema, Kalpana, Prem Jothe Anjali etc in the four and half hours entertainment sector won the hearts.
From 23rd of May Siri Kannada is giving stalwart writer, director and actor SN Sethuram 'Yuganthara', Sudhakar Reddy Razia-Ram and Madhusoodhan Marethu Hodavaru.
Yuganthara telecast at 9.30 pm from Monday to Friday from 23rd May is by eminent SN Sethuram is having socio-political-emotional angle. It centers around an IAS officer. SN Sethuram is returning to direction after 13 years via 'Yuganthara'. He has good names from Manthana, Maaya Mruga etc. I am given freedom by Siri Kannada heads and I am doing responsible work. Arundhati is the DC in this mega television serial.
SNS is picking the current topics and adjusting it to routine life. ShravanaBelagola episode, Home Minister imprisonment in one of the states – the research work of his studious study etc pumped in it. As a writer and director I should first get convinced to forge ahead, he says. My previous works were stopped in the middle but this one I am hoping for good prospective. Otherwise I am having the third book getting ready he says.
Divya Karanth is in the IAS officer role and she had taken a few inspirations for Arundhati role. The theater experience helped me to get along half a page of SNS dialogue. He is a perfectionist. Careful and awareness is required to work in SNS camp. I have a lot to learn acting for this Yuganthara she adds.
Marethuhodavaru is another unique concept. The generation today is not aware of the family tree. Either we find our relatives at death or at marriages but rest of the time; we keep them at a distance. B Madhusoodhan wrote the story and directed it. Ananthu is screenplay and dialogue writer. The forgotten relations uniting is the concept featuring Nikhil and Salomi, it is telecast at 9 pm from May 23 in all DTH and cable network facilities.
Raziya Ram – this mega television serial in Siri Kannada in Sudhakar Reddy Gopenahalli direction is focused on the national integration – Hindu and Mulsim bonding. It is telecast at 7.30 pm from Monday – it is 'Dharmakke Migilaada Premakathe'.
The protagonist Atharva is a Brahmin boy and Pakka RSS background personality a great devotee of Lord Srirama, there is Shilpa a Muslim girl all set for marriage runs away from home seeking a degree in law. They meet at a tense situation and what happens is the tale. Sundarasri, Ananth Padmanabha, Mahadev and others are in the cast.
The founder of Siri Kannada Sanjay Shinde and television head Rajesh Rajghatta addressed the media on the goals and aspirations. We are not like the other television channels that depend mainly on the TRP. We want to educate and entertain the audience. We are giving four and half-original programs. In association with Mr Mahesh Kothari we have about 400 Kannada films on hand.
The coming up television serials are Raghavendra Rajakumar starring Vijaya Dashami that starts from Varanasi shooting. There is Amana Maduve, Rajaneethi lined up for making in Siri Kannada.
Siri Kannada, a startup company started by Kannadigas in 2018, surpassed the difficult time of Corona and gave a few successful television programs.
In the coming days, Siri Kannada will be available in Jio Fibre, Tata Sky, Voot and other platforms.