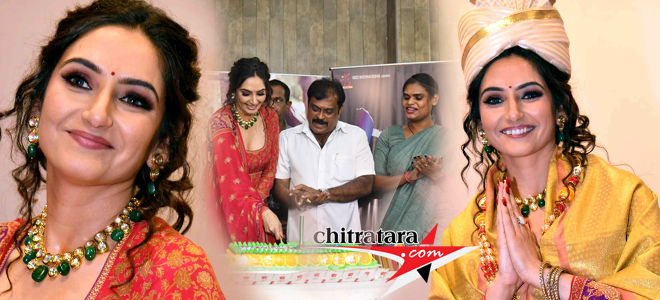 The talented south Indian actor with a stint in Hindi cinema Ragini Dwivedi celebrated her birthday on May 24 in a unique way.
Cake cutting, new film poster and doing good for the transgender part of the celebration of the celebrity Ragini Dwivedi. One of the transgender came on the dais and thanked Ragini for extending good support at the Covid time.
Actor of over 25 films from 'Holi' Ragini Dwivedi new film 'Sorry' (Karma Returns) released at Kalavidhara Bhavana and later a cake cutting celebration was held.
Ragini Dwivedi looking cheerful and welcoming guests and media on this occasion stated that she liked the subject of 'Sorry' Karma Returns from Afzal, a journalist. When I came to know about director Brahma, I was surprised. He is a very good technician. I am not interested in doing similar kinds of roles. This is one such role very different in film career, I need the blessings stated Ragini Dwivedi.
Director Brahma, expert in animation and VFX, is also a tutor in this film. He made 'Siddi Seere' in the past and the single line of Afzal interested him to make the film. I continued the story line. This is a crime thriller. This is also a superhero concept, there is no black magic sort of content in this film, adds Brahma.
Afzal, a cinema magazine proprietor and journalist narrated the script to Brahma in one of the functions. Then we decided Raginiji is the best choice for the role. She immensely liked it. For this film Canada resident Naveen Kumar is producer. Jai Kruplani and Jen George are co-producers. In Bengaluru, Sakaleshpura surroundings shoot is being held as of now. Remaining shooting is at Hyderabad stated executive producer of the film Afzal.
Cinematographer Rajeev Ganeshan and Swarna Chandra actor also spoke on this occasion.