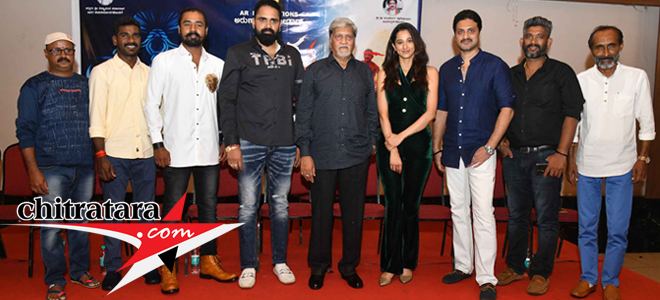 The valiance of Buffalo Race predominantly seen in Dakshin Kannada part of Karnataka is the focus of national acclaimed director SV Rajendra Singh Babu latest sensation 'Veera Kambala'.
No doubt the 'Kambala Race' in Dakshin Kannada has gathered attention since ages and one of the articles in Taranga weekly magazine attracted Singh Babu and he contacted Pai in Mangaluru for further details and contacted the right person Vijayakumar Kodiyalbile for Tulu and Kannada version of screenplay and dialogues. Singh Babu prepared the story related to this 'Veera Kambala' taking two years time and an acclaimed director wrote a screenplay also for this unique venture in Kannada that is sure to strike international level in the production of AR Productions Arun Rai Thodar.
Prakash Rai, a national award winning actor, is working for this film for three days and the court scenes with him are yet to get into the cameras.
Sing Babu known for lavish scale and variety of his films in the past is bringing in the valiance of Kambala, culture, politics, human emotions, underworld etc in this 'Veera Kambala'. In 70 plus days of shooting he utilized 40 pairs of Buffalos admired as superstars and four hundred men maintaining it and 500 plus juniors every day of shooting shows the capacity of this film.
Somewhere in European country a buffalo is cut and sold for fancy prices but we in India we honor and pray for it. As the Prime Minister of India Narendra Modiji given a call for protecting the Desi sports, we are in to it in this film. The shooting went on with lot of care and attention and for tourism department this film 'Veera Kambala' is bench mark feels Singh Babu.
For shooting 14 cameras were pressed into action and it is made in two languages Tulu and Kannada at a time and then dubbed into other languages. Nearly 70 plus owners of buffalo supported us and all 65 scenes of this film are real and true.
The content is hero and we are introducing real Kambala Race experts like Srinivas Gowda and Swaraj. The demand for this film is worldwide. The plan is to have a premiere show in London. We will decide on it next September, mentioned Singh Babu in his international standard film 'Veera Kambala'.
Senior writer, director and authority on a few topics Vijayakumar Kodiyalbile remembers when the Kambala race was stopped it was a unanimous fight to restore it and that is the biggest win of Dakshin Kannada. VK was searching for a new path in his profession and he got a call from Rajendra Singh Babu. This is the film he was looking for and it happened with a great degree of skill and substance he feels.
AR Productions Arun Rai Thodar hailing from Modabidri a businessperson in New Delhi and Ranchi also a realtor is extremely happy to be part of this film and he is optimistic. He wishes to take up many more projects in future.
Khadri Manikanth scores four songs for this film and has done live recording setting up an open theater for recording. The anthem song on Kambala is a huge hit already and super star Konas names are part of another song he says.
Aditya is in a gangster role and he was waiting for a long time to work in a Tulu film. Radhika Narayan is happy as commissioner of police in this film. Wearing a uniform was such a good feeling and even my parents are happy at home working in SV Rajendra Singh Babu direction, she says.
R Giri is cinematographer, Naveen Padil, Gopinath Bath, Rajashekar Kotiyan, Mime Ramesh, Usha Bhandari, Bhojaraja Vamanjur, Geetha Surathkal, Suresh Shetty NSD New Delhi, Divya, Santosh Shetty, Yuva Shetty, Hardik Padival, Santosh (US) and others are in the cast.