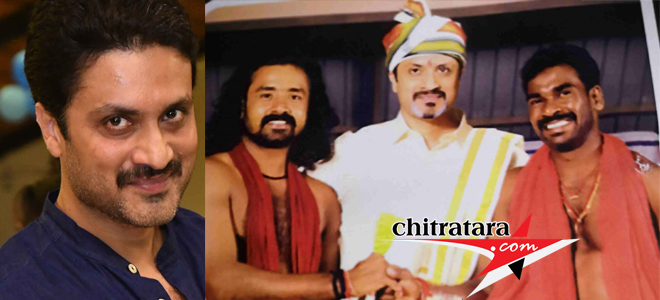 The tall and handsome actor Adhitya from the family of actors, producers and directors is in a gangster role in 'Veera Kambala' of his father highly acclaimed S V Rajendra Singh Babu direction.
This gangster role of Adhitya obviously refers to the role of Muthappa Rai the late reformed don who had a long stint in underworld activities.
The portions of Adhitya in the get up of Muthappa Rai are out and the handout released at the first media meet of 'Veera Kambala' on Tuesday evening at Century Club by producer Arun Rai Thondar clearly pointed out everything.
The biopic on Muthappa Rai first started by writer and director Ravi Srivatsa and the film got stalled from family members and fans of Muthappa Rai.
A few months back national fame director Ramgopal Verma launched 'I am R' featuring super star Upendra in the title role. This film is under progress.
Now nationally acclaimed director SV Rajendra Singh Babu in 'Veera Kambala' shot in Tulu and Kannada and dubbed in Telugu, Tamil, Malayalam and English languages showcase Muthappa Rai as a gangster in the film.
Adhitya speaking at the media briefing said half of the film team was baffled with get up for this film. I want to leave underworld subjects but I cannot say no sometime he says. We have Dheera Rockline Venkatesh and now we have Veera Arun Rai from this film.
On acting in Tulu films and learning the language, Adhitya told that he was waiting to do one Tulu film in his career. For this grandmother (Protima Devi, ace actress of Kannada cinema) and mother Smt Anuradha Singh background counts he feels.
However for Adhitya Mysuru and Mangaluru are the two best places of his lifetime.