VIJAYA DASHAMI RAGHANNA IS PRODUCER
Posted date: 26 Thu, May 2022 02:09:40 PM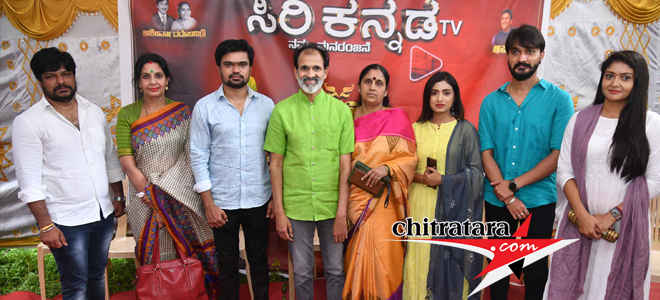 From the Empire of Dr Rajakumar as always the new talent is encouraged in the past and it continues until 2022. Raghavendra Rajakumar has launched a TV serial for Siri Kannada channel called 'Vijaya Dashami' very popular at the Dasara festival time.
The Vijaya Dashami starring Vybhavi Ishwar and Vihan flagged off on Wednesday morning at Sanky Anjaneya Temple. Smt Mangala Raghavendra Rajakumar, Vinay Rajakumar, Yuva Rajakumar and others graced the event.
In this Vijaya Dashami the female protagonist Vybhavi Ishwar has an action sequence in the underwater and that is an interesting entry of her. Shashidhar S Kundapura is the director of this mega serial.
As a matter of fact Vijaya and Dashami are the characters names played respectively by Vihan and Vybhavi Ishwar. The story of Vijaya Dashami takes off from Varanasi and moves to Bengaluru, Thirthahalli, Shivamogga and other locations. This is made in lavish scale and grandeur is part of this content presentation.
Making television series is not just business. From the beginning, we are cultivating the guideline of Dr Rajakumar in giving opportunities to others from the banner. We continue the tradition. The team builds up as a big family. Hundreds of people work here and it is a good opportunity. This attitude takes us forward in life as mentioned by Raghanna.
In June last week, this one went on air. Siri Kannada head Sanjay Shinde, Rajesh Rajaghatta, actors Ambuja, Kruthika Raghavendra and others present at the launch of 'Vijaya Dashami'.
Kannada Cinema's Latest Wallpapers
Kannada Cinema's Latest Videos
Kannada Movie/Cinema News - VIJAYA DASHAMI RAGHANNA IS PRODUCER - Chitratara.com
Copyright 2009 chitratara.com Reproduction is forbidden unless authorized. All rights reserved.