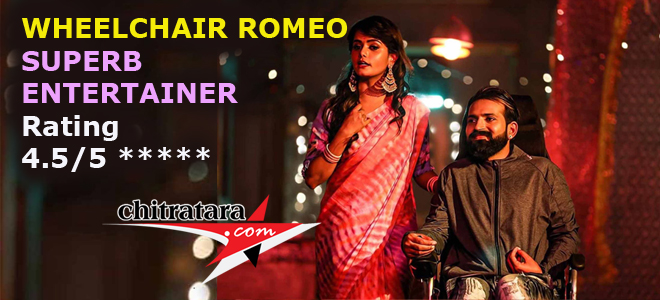 Duration – 158 minutes, Category – Love and Drama, Score – 4.5/5
Title – Wheelchair Romeo, Producer – Thimmappa Venkachalaiah, Direction – G Nataraj, Dialogues – Late Guru Kashyap, Music – Bharat BJ, Cinematography – Santosh Pandit, Cast – Ram Chetan, Rangayana Raghu, Mayoori, Suchendra Prasad, Tabala Nani, Giri and others.
The spectacular dialogues of this film and as a bonus wonderful performance of a touching tale would draw you to the theaters. This is a film you feel 'Paisa Vasool' for interval. The post interval is like any multinational company bonus for the audience.
Some of the media persons given standing ovation to the departed soul late Guru Kashyap for his wonderful dialogues as the small presentation to bid goodbye to him was shown after the screening of the film shows how powerful is the film.
It is a huge loss to Kannada cinema industry with the loss of a powerful dialogue writer and this film is haunting because of Guru Kashyap dialogue, who passed away in September 21 of a massive heart attack.
The film 'Wheelchair Romeo' has delectable contents, human emotions, speed is extremely good in the first half and pruning was required in the second half especially when the search operation for female lead takes place.
Perhaps for the first time the hero Ullas (Ram Chetan) on Kannada screen is on wheel chair throughout and gives brilliant performance. In the commercial format a new path in thinking on the plight of 'Flesh Trade' deserves applaud for director Nataraj. The protagonist on wheelchair suffering from Tetraplegia syndrome touched for the first time by a director.
Look at some of the dialogues in the film –
· Soudha Katto Kanasu Kanbeku Soudhe Mele Malago Kanasu Kanbedi
· Shoe Olage Kallu idre Tondre Horage Idre Alla
· Simple Badudu Beku but not Sympathy
· Mama saying Isht Dina petty case alli Tagalakande adre indu Petty coat alli
· Ishtu Dina Batte Bichchi Duddu Madide Indu Manasu Bichchi Matadide
· Nitya Sumangali Nimmannu Dheerg Sumangali Madona
· Hotel alli Tatte Yar Yar Tindru Anta Nodthiva Appa
· Parijatha Beleyakku Parthenium Beleyakku difference ide magane
· The song line Nammuralli Aralo Hoovella Gudiya Serlla….
· Kanasu kaanalu Kannigu Badathana….
· Jaameenu Kodadene Hrudaya Kalkone….
· Kanasinalli Nadeva….
Many more punching dialogues and songs are hallmark of this 'Wheel Chair Romeo'. The life of hero on Wheel Chair Ullas (Ram Chetan) and blind prostitute Dimple (Mayoori) is not bed of roses but bed of thorns.
Rangayana Raghu is no doubt the major trump card of this film and Dumma Giri and Tabala Nani steals the show with lovely dialogues. The satisfaction is that punching dialogues come to these three actors.
The counter dialogues of Ullas for his father touching dialogues are so fine and the character of Dimple has blood-curdling dialogues.
This 158 minutes 33 seconds film 'Wheelchair Romeo' with A certificate has 53 cuts from the regional censor board. Had all the 53 scenes retained for the film what would have been the situation? Obviously director Natraj should have given chance for sequel.
BJ Bharat songs and background is extremely good and songs of Jayanth Kaikini and Nagendra Prasad are a booster dose.
Cinematographer Santhosh Pandit worked like 'Pandit' in cinematography. There are many close up shots very beautifully captured.
Wheelchair Romeo is a must addition in your entertainment list.