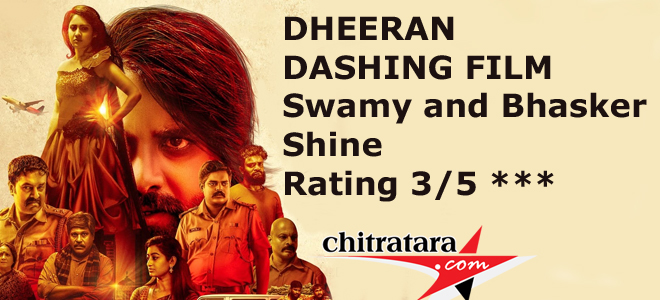 Duration – 138 minutes, Category – action drama, Score – 3/5
Title – Dheeran, Producer – Swamy YBN, Direction – Swamy YBN, Music – Ganesh Narayan, Cinematography – Sandeep, Cast - Swamy.YBN, Laksha Shetty, BV.Bhaskar, Pramod Shetty, Raghu Pandeshwar, Tejaswini Prakash, Veena Sundar, Vidya Murthy, Dayanand, Ravindra & Others.
A newcomer to the filmdom YBN Swamy has a commendable story and narration is the worrying part of this film. An intelligent software engineer picks the nefarious path and what happens is the crux of this film.

In the last half an hour the entry of a corrupt cop BV Bhasker and Dheeran attack and counter attack is a very interesting part of the film.
Dheeran is also an emotional saga of mother and son. An extremely competent Dheeran is very affectionate to his mother and he chooses an ordinary girl in status to his stature so that the family front is hassle free. He is right in this choice but the circumstances force him to go on the wrong path.
Software professional Dheeran knows how to give a hard reply to his detractors. The tough answer to the police department especially in the second half is the mainstay of the film and he is baffled when his own friends are behind the dastardly road accident. He studies the root of this particular incident and targets the corrupt cop played by Bhasker with stiff challenge.
Dheeran has to improve in his acting for his coming films. His screenplay is commendable. Pramod Shetty looks soft as a cop in the first half but Bhasker BV as a second half cop steals the show from his dialogues, laugh and good competence in handling the role. From positive roles Bhasker BV a competent actor has chosen a villain shade and worked hard for this role.
Raksha is serene and sensible, Veena Sunder has a different role that she is not used to, and three friends of Dheeran are quite OK.
RS Ganesh Narayan has given lovely tunes Rise like Sun… Yaro Yaro…is good. Cinematography pattern is dark background and images of bearded foursome are not properly visible.
In a nutshell 'Dheeran' prepared well but served poorly.