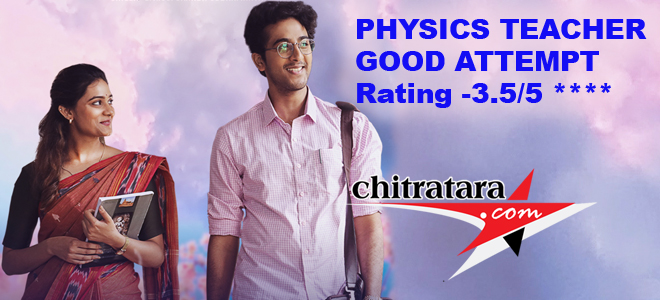 Duration – 108 minutes, Category – Reality and illusion, score – 3.5/5
Title – Physics Teacher, Producer – Passing Shots Films Private Limited, Direction – Sumukha, Music – Skanda Subramanya, Cinematography – Raghu Gyarahalli, Cast – Sumukha, Prerana Kambam, Mandya Ramesh, Rajesh Nataranga and others.
In his 20`s Sumukha has shown exemplary skill in making meaningful cinema. It is based on reality and illusion. The rational approach given to the film was wanted for this society. In giving a brief and tidy film, Sumukha showed that he had come here to conquer. His brilliance in selecting artists and addressing the issue in fact makes the audience educate.
He is Badri (Sumukha) a physics teacher, violin player and looks at the perfection in life. He is a good teacher to his students. From transparent to translucent, solar eclipse, superstition issue etc he gives a fitting reply to his students. He has a good friend Jalaja (Prerana Kambam).
As he sips Vodka with Jalaja he notices the chips packet missing on his table. The missing objects in his house obviously put him in confusion. One day he finds writing on the wall `I hate Physics Teacher`that puts his mind in a state of confusion again.
He talks to his dead father and that is stunning to the audience when Jalaja unveils the truth. What are further developments you have to watch this neat and tidy film.
A film like Physics Teacher needs a fabulous support and the conversation the director puts in the mind is interesting.
Sumukha as an actor and director gathers good attention for his ability. Rajesh Nataranga has given a delectable performance; Prerana Kamba is the future heroine of Kannada filmdom. Mandya Ramesh`s character could have been avoided to make the film more sharp.
The violin played in the background is soothing to the ears. Cinematographer work is another good standard for the film.
A student like Sumukha in Physics Teacher showed that he has the capacity to become professor in cinema art.