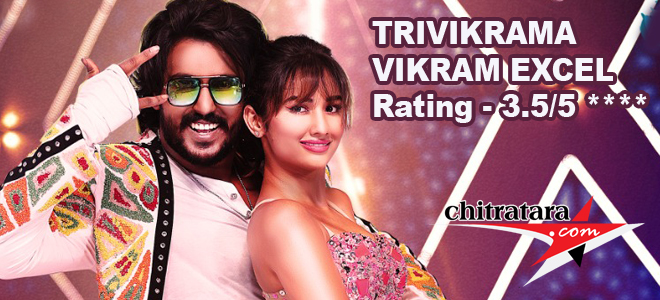 Duration – 151.51 minutes, Category – Love Story, Score – 3.5/5
Title – Trivikrama, Producer – Somanna of Gowri Entertainers, Direction – Sahana Murthy, Music – Arjun Janya, Cinematography – Santosh Rai Pathaje and Guru Prashanth Rai, Cast - Vikram Ravichandran, Akansha Sharma, Akshara Gowda, Shivamani, Faisal Khan, Suchindra Prasad, Adhi Lokesh, Tulasi Shivamani, Shivamani, Chikkanna, Sadhu Kokila, Jayaprakash and others.
The child actor of yesteryears, second son of Dr Ravichandra – Vikram Ravichandra has almost made it to the hero spot in this love story film with a difference. In action, dance and looks Vikram Ravichandra excelled but he has to improve in the dialogue department.
Director Sahana Murthy has a lot of 'Sahane' – in this 151 minutes 51 seconds film 'Trivikrama' he has made his thoughts extensive and that is the drawback in him. Loving the film is OK but it should not be in excess. Firstly he had not done justice to the title 'Trivikrama' and twenty plus minutes pruning of the film is required. At one point of time the audience decides that the film has come to an end but he takes more time in bringing injustice to his title. Trivikrama alias Vikram faces defeat in his life.
The wearer knows where the shoe pinches the case of tall and well built Vicky. He wins his lover Trisha but the action situation is a big surprise for her. She is shocked with Vicky`s valiance in protecting his brother. This is not wanted for Trisha – she doesn`t like violence and she hails from the Mahaveer Jain family background. In the last 20 plus years his father brought her up like that.
Love is in shambles now. Vicky follows Trisha in Rajasthan. It is at this place in saving the just born baby Trisha takes up violence in a ghastly incident. She realizes what Vicky was up to in the past from this one particular incident.
So all is well if you think you are wrong. The director takes a new deviation and surprises the audience with more reels to come on screen.
Dashing youth Vikram Ravichandra has a good future ahead in the profession! He has to fall into the hands of the right director.
Akanksha Sharma looks pretty and has done a delectable role in her debut. Thulasi Shivamani is a competent mother and so is the father role played by Suchindra Prasad.
Arjun Janya has given three good tunes, the two duets Ninne Tanaka…and the last one in which Vikram has done excellent dance added value.
There is a very good feast to the eyes from two able cinematographers. The editor in discussion with the director should have cut down the duration of the film. There are two stunning actions and Vikram wins effortlessly in such portions.