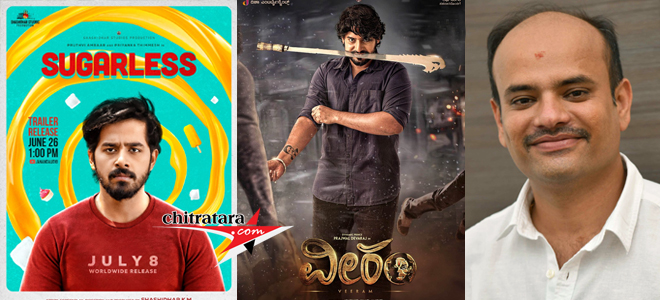 A former banker is now collecting good revenue for his bank account from his first directorial venture and third Kannada film production.
That is Shashidhar KM we are speaking about of 'Sugarless' Kannada film – this is his debut direction. He wrote a story with his wife and a first film on diabetics. He is up to another disease film and some may call me as 'Khayile' director. I know he says addressing the media at the trailer launch and screening of two songs of 'Sugarless'.
In five years of stint producing three films, one on the floor 'Veeram' Shashidhar acted in a few films and made web series in his career. He is on top gear with 'Sugarless' right now.
Why Shashidhar is very happy is because 'Sugarless' has made him 'Sugar Plus'. That means to say he had already got very good price from Colors Kannada for screening, he is screening the film in theatres from July 8, this film remake rights in Hindi is obtained by Shiv Aryan without watching the film, Shashidhar is making debut as director in Hindi, the film Telugu, Bengali, Korean language rights besides Tamil dubbing business has been done.
Apparently the original thought he discussed with his wife while writing the story is actually seen in the Hindi remake of 'Sugarless' – a big star is taking up the role of what the handsome hunk Prithvi Ambar had done in Kannada.
Shashidhar says his film 'Sugarless' will be a sure hit as the film contains all ingredients. There are 40 lakhs people in our state, world over diabetic is an issue. I am saying something for diabetic and non diabetic he says. Shashidhar remembered dialogue writer Guru Kashyap and character actor Rockline Sudhakar who were part of the film not with us today.
Meanwhile Shashidhar does not forget to say that 'This film has given everything for him'. In the industry there is a saying 'Cinema Industry Bandu Nan Halag Hode' – No I don't agree with this statement.
Watch for another big venture getting 'Veeram' set for September 2022 release says a highly confident and competent director cum producer Shashidhar.