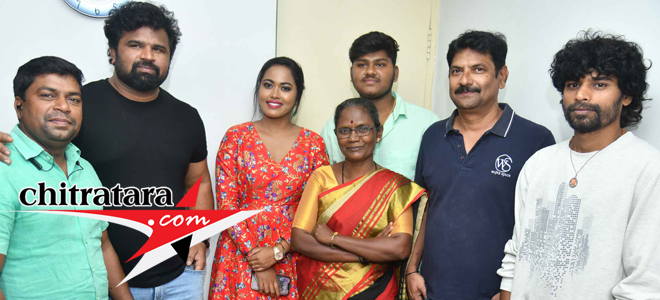 'Padmavathi' Kannada film by actor and producer Vikram Arya has nothing to do with the song 'Oorigoble Padmavathi….song `because of its title.
Of course 'Padmavathi' is about a struggle who does not want to continue her mistake. It is a female oriented film. Thappu Madadavarayavre…songs come to mind again. Once you make a mistake that should be properly corrected is the focus of director Mithun Chandrasekhar. The director almost narrated the script of the film 'Padmavathi' – according to me the child born without marriage for 'Padmavathi' is the focus. After forgetting this birth and leading a happy life, Padmavathi watching a mother song realizes her mistake and she starts hunting for her son. Director says there are several such children in our society that are neglected today. What should happen to such children and it is not their mistake at all coming to this earth he says.
The trailer includes an action bit and three songs of the film released as pre pre-release meet. Lahari Velu, chief guest on this occasion said his entry to active politics has already happened. On missing the nomination to Rajya Sabha he said his name was recommended after knowing his hard work means a lot. I want to be a performing asset not a non performing asset. I do not drink coffee or Tea in politics he clarified.
The melodious singer from the northern part of Karnataka Gangamma delivered a song for this film. Sharan Kumar Gajendragad popular for his Anitha O Anitha…song in Ek Love Ya, Dashavara Chandru, dance director and actor in a song on Thayi…Tribhuvan, Damodar, Nabhi and others were present at the pre release event.
According to hero and producer Vikram Arya the first film 'Tale Bachkolli Powodru Hakkolli….was dream of coming to cinema, making this film I learnt crying, a subject of this film released at Yajamana release time would have done wonders in the box office says confident Arya. According to him story, screenplay and music plus lyrics is hero of the film. The film is releasing on July 15 says Vikram Arya.
Meghana Ram will be my name here afterwards. I do not change further. She was Saakshi alias Meghana Saakshi in the past. She knows the pinch of changing names would result wrongly in the tinsel town. I had attended a workshop for this film and at 22 years I had done a 45 years get up role. She adds on her happiness of doing the title role.
Damodar Parage, Kavitha Priya, Raghavakumar, Suresh Swami Rao, Abhilash, Sharanagikeri, Shivamogga Ramanna, Rajeshwari Pande, Archana Shetty and others are in the cast.
The shoot for the Rao and Raos cinemas was held at Bengaluru, Hosanagara, Shivamogga, Sakaleshpura, Chickmagaluru surroundings.
Shoyab Ahmed is cinematographer, Dinesh Kumar is music composer of very good songs, Ishwar K is editor, Thriller Manju handled stunts, Tribhuvan is dance director and the film story is penned by Latha S.