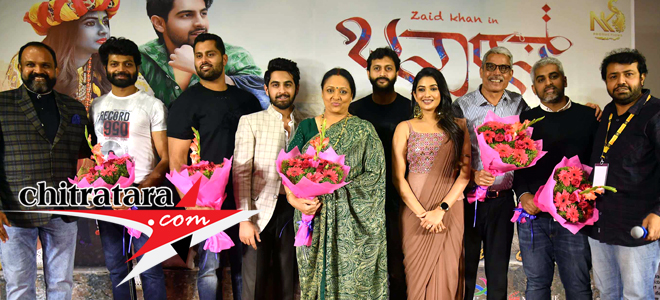 Eminent director Jayatheertha`s dream of making a film at Kashi, Varanasi and on the banks of river Ganga has finally been fulfilled. This was his thought when he made first film 'Olave Mandhara' 100 days screened successfully where he shot a portion of the film at Kashi.
Intelligent and workaholic giving right treatment to his desi thoughts Jayathirtha maiden shot for the film 'Banarasa' a Pan India film featuring young and handsome Zaid Khan and Sonal Montero in Tilak Raj Ballal lavish production screened the first song 'Maaya Gange….and the last shot of the film is captured at sacred river Ganga banks.
The very melodious song Maaya Gange Mouni ade Hege…Kannada song and Malayalam song screened at GT world Mall on Monday night. Apparently the song in Kannada is penned by Dr V Nagendra Prasad, scored by Ajanish Lokanath and sung by Arman Mallik. The Malayalam version of the song is penned by Adi and sung by Isham.
The media from Karnataka and Kerala part of the grand event of NK banner 'Banaras'. Director Jayathirtha his next song release will be a Janapada song…that is one of his favorite songs.
Smt Shylaja Nag released the song as one of the guests, Lahari Recording Company Velu and Chandru present as audio rights wrest in that company.
Abhishek Ambarish, Vinod Prabhakar and Yashas Soorya carried the message of super star Darshan on this occasion and told Zaid Khan crores of fans are behind you and wished good success for debutant actor 'Banaras' film.
Zaid Khan, Debut actor, charming beauty Sonal Montero felt extremely happy for the happening of 'Banaras'. Director Jayathirtha said the film 'Banaras' has inner and outer layers in the film. It is all about life. He has shot in 84 ghats of Kashi surroundings. Being a son of a politician Zaid Khan (father is popular politician and former minister Zamir Ahmed Khan sitting MLA of Chamrajpet) is extremely down to earth. His urge to learn and attending workshops made him stand today, stated Jayathirtha. A hero today should go on developing and constructing in his work rather than breaking things to prove his sound appearance, feels Jayathirtha.
It is for the first time the former chief secretary of Karnataka government Sudhakar Rao appeared for a small role in 'Banaras'. If you identify me you win or else you are lost he says on a lighter note on his very brief presence. In fact Jayathirtha captured the first shot of the film on this former bureaucrat.
Tilak Raj Ballal, producer of 'Banaras', producer Santosh, cinematographer Adwaith Gurumurthy, music composer Ajanish Lokanath, lyricist, actor and director Dr V Nagendra Prasad and others were present on the occasion.