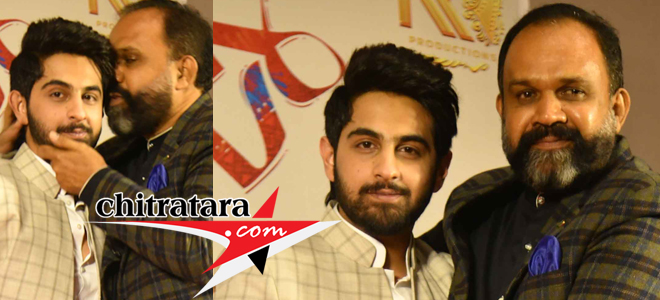 The handsome hunk looks very sweet and raring to go from debut film 'Banaras' a Pan India movie Zaid Khan has come here to stay in filmdom. His abilities and looks in addition to devotion towards the work makes him a good competitor in the tinsel town.
Son of a very popular politician and former minister of Karnataka Zamir Ahmad Khan, this youth with full potential says the producer of 'Banaras' Tilak Raj Ballal is his Godfather.
So for not touching anyone feet and collecting tears Zaid Khan was seen with emotional moment when he invited Tilak Raj Ballal on stage at the grand event of 'Maaya Gange…song of 'Banaras' release on Monday night at GT World Mall screen No.1
Zaid Khan got the major support from Tilak Raj Ballal. Tilakji sent me to Mumbai and was admitted to the acting school. He made a film for me. I got everything from my dream project 'Banaras'. My father had given me birth and tutelage in life. I want the people of Karnataka to take me further in the cinema field. I have strong belief in the Karnataka people that you would make my dream come true, he stated with confidence.
Tilak Raj Ballal says he and Zamir Ahmed Khan are childhood friends. I told Zamir Ahmed I take the risk of making his son an artist in cinema. There is absolutely no support from him. I am not the biological father of Zaid but is like my son. This handsome hero Zaid will be Pan India Khan forecast Tilak Raj Ballal. He is going to steal shows; he is a man with no attitudes and head weight. He has all the capabilities as an actor to conquer the silver screen, says the proud producer of 'Banaras'.
I am not nervous. I thank the brothers like Abhishek Ambarish, Vinod Prabhakar and Shylaja Madam for making it to the function.
In the film 'Banaras' Zaid says he is lucky to get such a wonderful project plus highly respected talents working for this film in my fortune. Dynamic star Devaraj plays my father in the film; there is Sujay Shastry, Achyuth Kumar, Sapna and others.
My team of technicians headed by Jayathirthaji as director, music director Ajanish Lokanath, cinematographer Adwaitha contributed very well, feels Zaid Khan.
At the Banaras song release in Kannada and Malayalam there was all round applause for Zaid Khan and he was so humble throughout the event.