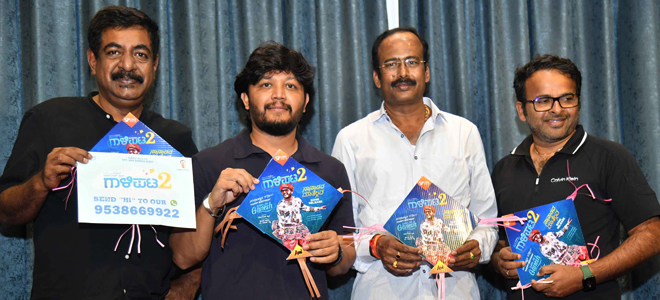 On the occasion of Golden star Ganesh birthday on July 2, 2022, the team of 'Galipata 2' released a lovely song Naanaduva Mathella….penned by Jayanth Kaikini, beautifully sung by Sonu Nigam and captured on Golden star Ganesh and Vybhavi Shandilya by ace cameraman Santosh Rai Pathaje. The film Galipata 2 is slated for release on August 12 all over Karnataka and other places.
The melodious and naughty song is set in the lovely art direction of Mohan Pandit and it is the imagination of the topnotch director Yogaraj Bhat. An iron box, a book and a Bindige all in huge size and the lovely pair with dancers looked very absorbing and the melody at the top from Sonu Nigam sure to be on top of the chart.
It was an advance happy birthday celebration of Golden star Ganesh on Wednesday 29th June morning at SRV Theater as he is out of station on July 2.
It was a very jovial and meaningful explanation about the song done by Golden star Ganesh. He says Yogaraj Bhat`s very active brain changes the ideas very quickly and sometimes which is also difficult to identify. He has brought in properties in this film and a huge iron box on a river surprised me. As the conversation went Bhat told you have picked heat in your love journey. I laughed at the top of my voice and said Ganesh remembered the shoot.
This song Naanaduva Mathellava….is rich in melody like the Galipata 1 `Minchagi Neenu Baralu….says Ganesh and the close up shots for this particular song was very challenging and in fact the wants of Yogaraj Bhat is fulfilled in me performing. Producer Ramesh Reddy is the best human being and he is sure to win from this film hopes for Golden star Ganesh.
Producer Ramesh Reddy (Nangli) says his family members, especially daughter , are humming this song always and this is a song for youth. I have brought a huge set of iron box, book and vessel to my home, he says and urges people of Karnataka to support in winning from this film 'Galipata 2'.
Yogaraj Bhat a multi talented and multiple ideas coming to head is the result of the song released. He arranged for the making of the song clips, Jayanth Kaikini in a video message explained how the song cropped up in his `Janti Acharane` (with Yogaraj Bhat, Sonu Nigam and Ganesh). Bhat read out the song for clear understanding of the song lines. He is getting other songs for people`s reaction soon. Bhat made a royal salute to music composer Arjun Janya. Galipata 2 has tagline Naija Prema.
Cinematographer Santosh Rai Pathaje recalled the making days of this song and how tough it was to shoot for five days. Yogaraj Bhat gets the weird ideas and we have to match for it he says.