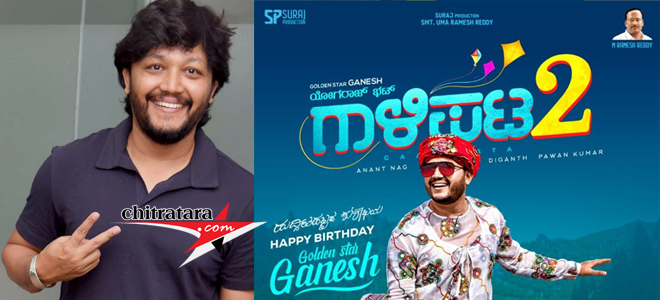 K S Vasu
The golden star Ganesh`s 42 birthday today! Wishing him a happy birthday we bring out the recent chat we had at the 'Galipata 2' song launch held on 28th of June, 2022.
Golden star Ganesh very happy for the beautiful songs from Yogaraj Bhat, Arjun Janya, Jayanth Kaikini and Sonu Nigam 'Janti Karyacharane' Naanaduva Mathellavu….said this is similar to the one of 'Galipata' Minchagi Neenu Baralu….
We bring you the excerpts of a chat with Golden star Ganesh.
· I don`t know how to write a love story but I want to make very good changes. I wish I get a crime subject in the forthcoming films he says.
· In a love story film I am not for lip lock. I don't like that aspect at all. We can express love other than that in many ways.
· On Galipata 2 coming on August 12, 2022 from producer Ramesh Reddy he is very sure of a good treat. There is Pawan Kumar, Diganth and others – the take off from the end is good here. I am an eater of food like in the previous one. Yogaraj Bhat has brought in a distinct outlook to Galipata 2 that you have to watch on the silver screen.
· Working for Galipata 2 at Kuduremukh surroundings for 30 plus days I went on a flashback. Vishu sir Hrudaya Geethe was shot here. Ganesh acting like Vishnuji showed his love. I felt happy because wherever such legendary persons acted I am shooting at the same place.
· There will be discussion and tough talks working with Yogaraj Bhat. I question his thoughts and try to get the answers before facing the camera. For example huge iron box property on a river. He told me 'I have come to age and picked up heat'….I laughed at it.
· My next films are Triple Ride and Baana Daariyalli.
· Baana Dariyalli film this time Preetham Gubbi has made a very strong subject. He is more mature in this film. He does not say pack off at 4.30 pm. He continues till 7 in the evening. He is much more serious from earlier films.
· I am moving to a birthday celebration somewhere in the southern part of Karnataka. The choice is from the family.
· In the family there is already competition – My son acted in three films and he is seen in Galipata 2 also. My elder daughter acted in one film. They pick discussions on this number of films, I listen to their discussion and just smile.
· The reason why I requested fans not to come home is because I am very much interested in their good health. From all places coming to one place is risky. In theaters they watch films with some security. Imagine the travel from Gulbarga and Bidar districts. It is difficult for them and that is why I made an appeal to stay at your place and do some social work.