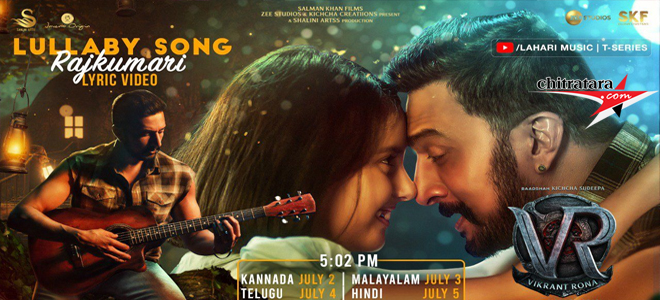 Making big sound all over India and abroad 'Vikrant Rona' by Kichcha Sudeepa and Jacqueline Fernandez released the second song of the film that is very sweet, emotional and packed with a lot of meaning.
After a peppy song 'Ra Ra Rakkamma….song this is the second good invitation for audiences to come to theaters from July 28.
The second song 'Rajakumari' is a lyrical song about the father and son bondage very melodious in the voice of ace singer Vijayaprakash. Director Anoop Bhandari wrote the song and Ajanish Lokanath composed it. William David is the man behind the camera.
Kichcha Sudeep in a tweet message says this song is a very favorite one for him. The Kannada version released on July 2, in the coming days the Malayalam, Telugu, Hindi and Tamil versions release before 6th of July.
Nirup Bhandari, Nitha Ashok, Ravishanker Gowda, Vasuki Vybhav and others are in the cast. Vikrant Rona is also releasing in English language for which Kichcha Sudeepa did the dubbing.