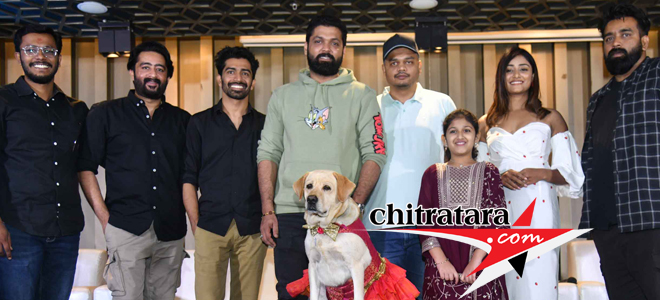 This is another record at the world cinema level for '777 Charlie' of Paramvah Studio. In achieving rare distinction the good thoughts of Paramvah Studio further earns laurels to it.
In 25 days the overall gross collection for this film is Rs.150 crores. A stupendous success in the professional career of Rakshit Shetty and the first time director Kiran Raj is brimming with happiness at the get together party on Monday morning.
The five star hotels do not allow pets. But for 25 days Rakshit Shetty selected Taj Vivanta at Yeshwantpur and with a condition 'Charlie' should be allowed. The cynosure of all eyes Charlie with trainer Pramod was sitting on a posh chair and stood for photographs.
Rakshit Shetty frankly admitted that the net collection for Paramvah Studio and GS Gupta production is Rs.100 crores and with a pet perhaps no other film in the Indian history collected so much at the box office.
Rakshit Shetty announced 10 percent of the profits will be distributed among the technicians working for this film. This is besides the regular payment that they have received. Approximately the budget of the movie 777 Charlie is around Rs.15 crores.
Towards the welfare of Indian dogs and animals another 5 percent of the profit will be donated to the NGO in the name of 'Charlie'. Using our light to ignite someone else's will illuminate the world and I thank everyone for lighting our world with your love.
This is the film that got a tax rebate from the government of Karnataka. On the 25th day it is screening in 450 screens. It is three years of effort and I feel that 5 percent of my life has gone into this film. I am very confident that the response for the film will be huge when it is screened on the OTT platform from all language people.
The wave of KGF and KGF 2 is impeccable and we are on that line successful in bringing audiences to the theaters especially after Corona Pandemic. This is a new type of film, says Rakshit Shetty.
There is a demand from other languages for a remake and I want Kiran Raj to take up the project, says Rakshit Shetty.
Trainer of 'Charlie' , a golden retriever brand dog, says we can give the status of 'Acharya Devo Bhava' to this pet animal.
Director Kiran Raj, female lead Sangeetha Sringeri, music director Nobin Paul and others were present at the 25 days celebration.