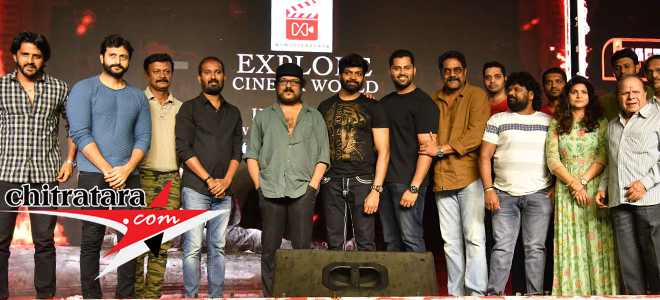 Another popular actor Vinod Prabhakar and his charming wife Nisha entering the production field evolving 'Tiger Talkies' and the first film 'Lankasura' teaser dashing in contents aptly made for the image of Vinod Prabhakar released on Wednesday evening by crazy star Dr Ravichandra V at a crowded gathering in Sheraton Hotel.
The teaser release event took off via a melodious song sung by Dr Shamita Malnad on Sri Shirdi Saibaba. The family of Vinod Prabhakar, Mari Tiger of Kannada cinema is ardent devotee of Shirdi Saibaba.
Smt Nisha Vinod Prabhakar, proud producer, invited the media and guests with chocolates and a rose flower and sought the blessings of Karnataka people in her welcome speech. One cannot do anything. It is a team effort and I urge the media and people to support my film 'Lankasura' . Nisha made a humble speech. As Nisha entered the stage the logo of 'Tiger Talkies' got unveiled on a huge screen. For Talkies the spelling is 'Talkes' – reason for omitting I do not know.
'Field alli Dushman Saithane, Dushmani Alla' is the dialogue from Vinod Prabhakar in the teaser. 'Shakthi Upayogisidre Krourya aadre Yukthi Inda Don agthiya' is the dialogue for dynamic star Devaraj.
At the teaser launch actors Abhishek Ambarish, Yashas, Dharma Keerthiraj, Bala Rajawadi, director of the film 'Lankasura' Pramod Kumar DS, music director Vijteh Krishna, cinematographer Sugnan, Ravishanker a powerful cop in the film, Dynamic star a don, two beautiful heroines Parvathy Arun, Adya Ravi, stunt directors Different Danny and Arjun, KFCC President Ba Ma Harish, KFPA President Praveen Kumar, MG Ramamurthy, KFCC committee members Dr Sunder Raj and others wished good luck to 'Tiger Talkies'.
The making video of the film 'Lankasura' disclosed the struggle made for the film. Chief guest Dr Ravichandra V there was a video and remembering his father Tiger Prabhakar son Vinod Prabhakar screened a video that reminded the glory of Tiger Prabhakar.
Lankasura is the 21st film of Mari Tiger Vinod Prabhakar. On launching the home banner Tiger Talkies Vinod Prabhakar invited all the guests personally at the auditorium.