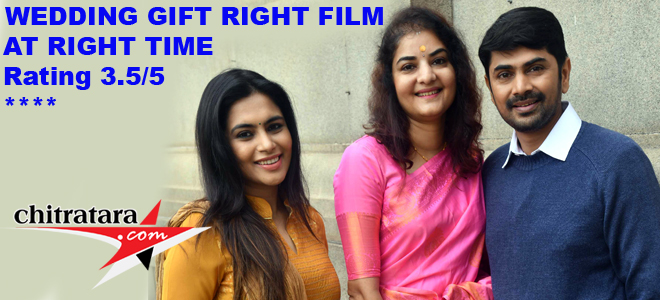 Duration – 139.26 minutes, Category – Love Story, Score – 3.5/5
Title – Wedding Gift, Producer – Vikram Prabhu, Direction – Vikram Prabhu, Music - Balachandra Prabhu, Cinematography – Uday Leela, Cast – Nishanth Nanaiah, Sonu Gowda, Prema, Achyuth Kumar, Yamuna Srinidi, Pavitra Lokesh, Babu Hirannaiah and others.
Henmakkale Strongu Guru but Gandmakkalu Buddivantharu Guru!
`Wedding Gift` is a well designed and executed cinema in the second half. It is a gift for someone you! The use and misuse of law is focused in this film – the misuse is more in the wake of section 498A a law made to fully protect women from all violence. In addition to section 307 touched in this film.
For me too, here is `Men Too`. The extremity of the consequences one should in the wake of misusing the law made on this land. Vikram Prabhu in his debut direction has done hard work for sure. He should have come out from snail pace in the first half and for the second half court hall drama should have taken suggestions or gone through Ronit Roy `Adaalat`!
The digging to get loopholes from Vilas Rao is possible for Akanksha lawyer, why not for Vilas Rao lawyer Bhavana! The climax is left to the director`s perception but not tit for tat from Akanksha advocate. It should have made the courtroom arguments more meaningful. Of course there were chances for Bhavana to investigate the loopholes of the Akanksha side.
However this Wedding Gift is an eye opener. The smart lady Akanksha gets the smartest answer from Vilas Rao when he is posted to the mental asylum.
The immense love extended by Vilas Rao a pharmaceutical company proprietor is not reciprocated by Akanksha and it is a suffering for no mistake especially after marriage. The intention of Akanksha is to gobble the entire property of Vilas Rao and in the court hall he faces utter nonsense for good attitude.
Vilas Rao`s advocate Bhavana finally gives up and comes for a patch up out of the court. On the other hand Akanksha has to get the property documents of 50 percent share made in her name from Vilas Rao who is now sent to mental asylum.
What happens next you have to watch it on the silver screen! The male domination that is told in the society is female domination in this film just because of section 498A of Indian Penal code.
Sonu Gowda has given a strong performance and she is seen in a different role. Nishanth Nanaih has gathered good attention for his well measured acting. He has not over acted and serene at places.
For veteran actor Prema there should have been more scope and bogging down for settlement coming from her should not have happened. All directors are not in the caliber of Sunil Kumar Desai.
Achyuth Kumar as advocate steals the show from his apt dialogue delivery Pavitra Lokesh is a lovely mother again after `Diya` and the demise of this character brings in a lot of emotions.
The cinematography of Uday Leela is absorbing in the indoor and outdoor locations. Music from Balachandra Prabhu is catchy at places and background score is adequate.
The speed of developments seen in the second half should have been there in the first half from the editor of this film.
O Gandasare Neeveshtu Olleyavaru….you feel after watching this film!