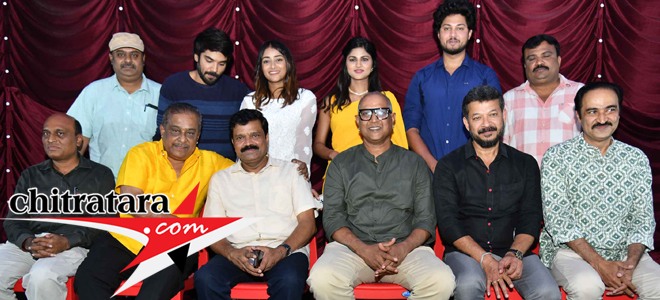 One of the senior most directors of Kannada filmdom S Mahender has changed his track from sentiment and musical films in 'Pampa' – the title is ancient but topic is current = a murder mystery subject with two startling facts coming up from this film 'Pampa'. This film has got nothing to do with 10th century Adikavi Pampa. It is Pancharalli Parashivamurthy.
A captivating trailer indicates that S Mahender changed his track and this film is produced by Lakshmipathy in KEE Creations – V Lakshmikanth returning from USA owns Total Kannada shop at Jayanagara, Bengaluru. One of the songs of the film O Nanna Akshara Neeniga Suswara….was available at the media briefing and undoubtedly a very interesting and melodious song from Dr Hamsalekha.
The lyrics of Rashtrakavi Kuvempu, Channaveera Kanavi are utilized for this film by lyricist and composer Nadabrahma Hamsalekha. According to him he is 'Paricharika' of this film made with a lot of conviction and standard. The dream of uniting the North and South is the dream of this producer V Lakshmipathy. 'Pustaka Maari Kannada cinema Madiddaare' he deserves encouragement Hamsalekha strongly feels. Anirudh Shastry, Ankita Kundu and Ravindra Soragavi are playback singers of this film.
For V Lakshmikanth the making of a Kannada cinema is the childhood dream. He is up to give a novel film with issues and answers to it in his film and that is 'Pampa'.
Noted director S Mahender says there are some issues that have not been told so far. There is 'Kannada Lepana' in this film strongly. The positive, negative parts are analyzed in this murder mystery with love content. How Kannada is misused is touched in this film, says S Mahender. Mahender had written story, screenplay, dialogues besides heading the megaphone.
Keerthi Banu, a software guy for the last 23 years, is professor Pampa in this film. 777 Charlie fame Sangeetha Sringeri, Raghava Nayak, Aravind Rao as cop, Aditya Shetty, Bhavana Bhat, Renuka, Ravi Bhat, Krishnaa Bhat, Srinivasa Prabhu as chief minister, Prutiviraj as home minister, Mahadeva Hejjaji as principal notable actors in this film.
Ramesh Babu is cinematographer, Mohan Kamakshi done editing, Mahesh Dev is co director of 'Pampa'.