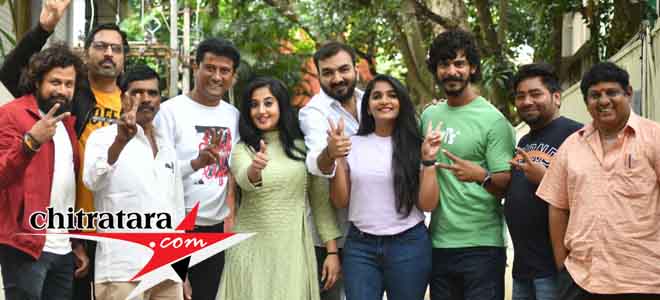 Last week`s release 'Girki' the maiden production of noted comedy actor Taranga Vishwa in the lead role for the first time 'Girki' came before the media with the news of good progress in the box office.
The zoom of Taranga Vishwa and team is so high that it has announced the start of another film. Taranga Vishwa says the audience giving good response to the film and it would pick up further is the hope. 22 years in the cinema and TV acting Taranga Vishwa appeared in the role of Vajramuni, a cop
Vasuki Bhuvan is co-producer with Taranga Vishwa for 'Girki' and in the camp of Yogaraj Bhat as assistant Veeresh PM is the debutant director of this film.
Taranga Vishwa thanking the media and audience for the response stated that he had visited Kanakapura and other areas to know the responses. The talk is on for Hindi rights of this film. I am happy to start another film with Taranga Vishwa speaking to the media at Renukamba Digital Theater.
When I was associate director I used to visit theaters to know the pulse of the audience. I used to hear the comments heard by the audience for director work. From that time my feelings of turning director increased. I am enjoying that happiness for my film. I thank the producer and team for extending good cooperation for this film making mentioned director PM Veeresh.
Another notable actor in the film Vilok Raj was extremely happy with the joy he is having from the release from 'Girki' Kannada film.
Divya Uruduga, a talented actor, was happy when she visited theaters through the whistle and applause. She got it from the audience and some of them checked with me on the role performed in 'Girki' she disclosed.
Rashi Mahadev acted as Parimala in the film thanks to the identification she got from this film 'Girki'. Music director of eminence Veer Samarth, distributor Raju addressed the media on the happiness of the film 'Girki' picking up in box office.