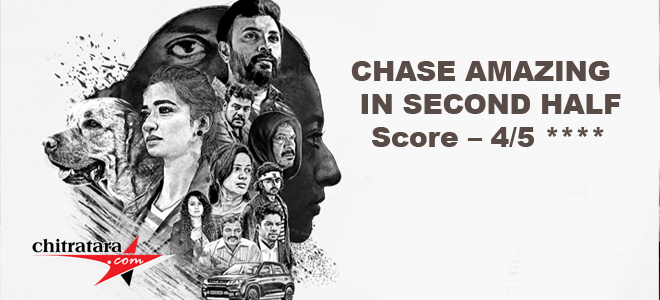 Duration – 143.43 minutes, Category – Thriller, Score – 4/5
Title – Chase, Producers - Manohar Suvarna, Pradeep Shetty, Prashanth Shetty, Direction – Vilok Shetty, Music – Karthik Aacharya, Cinematography – Ananta Raj Urs, Cast - Radhika Narayan, Avinash Narasimharaju, Sheethal Shetty, Pramod Shetty, Arjun Yogesh Raj, Sushant Pujari, Arvind Rau, Sudha Belavadi, Rajesh Natarang, Sweta Sanjeevulu, Arvind Bolar, Rehaman Hassan, Veena Sundar, Sundar, Priya Shatamarshan, Nagarjuna, King Mohan, Satheesh Madhyamika, Usha Bhandari, Ragashri and others.
'Chase' is a brilliant thriller and Vilok Shetty shows extremely good promise in his first venture. He is over brilliant and could have cut down his length to make it a real taut thriller. The first half is excessive and just nothing happens. The second half is Paisa Vasool for the audience. This director`s work – screenplay is exceedingly good. Additional boost he has got is from the actors like Rajesh Nataranga, Radhika Narayan, Aravind Rau, Sheetal Shetty and a cool guy as cop Avinash Diwakar (grandson of Hasya Rathnakara Narasimharaju).
Director work especially in the second half keeps the thriller movie lovers on the edge of their seat. But his protracted narration needs to be controlled. The questions the audience makes are answered, consuming more time in this film.
'Chase' is the first film on the medical mafia and how it showcased bewilders. The mafia is so strong and nothing stands in front of it one would feel but the murder investigation connected to it book the operators and that is the small consolation.
We have a blind Nidhi with her pet Bruno. In a ghastly accident she lost her fiancé and she turned blind. She is from the police department. She has been suspended for not using the handcuff in the right way that has cost her fiancé life.
Nidhi is very intelligent and she can smell anything wrong. One day accidentally she travels in the car of a doctor and that car meets with an accident resulting in grievous mistake from the doctor.
The person who has met with an accident and is dumped somewhere by doctor and Anesthesia specialist Aravind Rau turns out to be very costly.
Nidhi reports this accident to the police officer Avinash and the hunt begins. In the hunt various things unravel that leads to curious moments on the screen.
Who got killed in the road accident, how the medical mafia comes in the front, who are all connected, how the cops get clues, what happened to blind Nidhi and her dog…..Oh you have so many questions that get answered in the second half. In the meantime that also shocks and surprises the audience.
Radhika Narayan in the action mood in this film has given a decent performance. The underplay of Avinash Narasimharaju is too good. He fits this kind of role immaculately. It is a big surprise from talented actor Rajesh Nataranga. Sheetal Shetty is convincing in dialogue delivery like her professional work, Arjun Yogesh has used the short presence very well, there is nothing much for Pramod Shetty.
The debutant Karthik Acharya is too good in two tunes. Deevana Saahu….is very melodious and background work for this film is fine. Cinematography carries the audience to various places and struggles very hard for outcome.
Editing should have been brisk and captivating throughout. The intelligence of the director should have been controlled on the editing table.
Thriller movie lovers 'CID and Adaalat' Hindi television serials audiences find it very interesting in the Kannada film 'Chase'.
You can chase for the theaters to watch Chase!