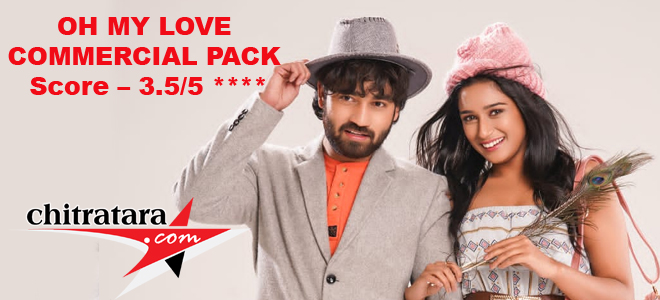 Duration – 145.54 minutes, Category – Love Story, Score – 3.5/5
Title - Oh My Love, Producer – G Ramanjini, Director – Smile Sreenu, Cinematography – P Halesh, Music – Charan Arjun, Cast – Akshit Shashikumar, Keerthi Kalakeri, Dev Gill, Sadhu Kokila, S Narayan, Deepika Aradhya, Sundarashree, Pavitra Lokesh and others.
What is important in life? Is it love or friendship or family relations? The film title although points to Love, for our protagonist Prem it is friendship that comes first and next is family happiness. He is ready to sacrifice his love in life for the sake of all good.

With such a subject in a protracted style director Smile Sreenu worked out a screenplay that is gripping at places. Overall this is the best work of the director supported well by producer Ramanjini.

Coming to Akshit Shashukumar, this film has given a good opportunity that he has utilized very well. Like his popular father Shashukumar this buddy dances well, in a good romantic mood and action scenes he shines. Akshit dialogue delivery is fine.

Oh My Love.... You would say at one point of time in the film it is a commercial venture and action lovers love it. There are very interesting scenes that capture attention but the director should have cropped the length of the film.

Prem is given responsibility of guarding Priti by Rahul. Taking care of his friend`s sister Prem is loved by Priti for his absolute care and affection. Of course the sweet chap Prem responds to love but there are a few hurdles from Pratap Simha and gang. On the other hand friend Rahul also betrays Prem but guarding the family of his friend earns goodwill for Prem. One more mistaken identity further plays spoilsport.

How the muscle power of Prem gets back answers to brickbats he earned forms the rest of the film flow.
Akshit Shashikumar has a bright future; Keerthi Kalakeri has good potential, Dev Gill as rabble rouser roars, veterans in this film performed well.
There are two lovely tunes from Charan Arjun, Cinematography gives a good feel and the production team gives nice locations for this film.
Worth watching once.